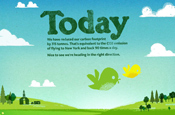 The 'Today' positioning, which has been developed by Billington Cartmell, will be used to promote all the supermarket's environmental and CSR activity. It is intended to communicate the retailer's ethical stance in a 'straight-talking and down-to-earth' way.
The programme launches on 19 May with an initiative that will give away 10m reusable plastic bags carrying the line 'Today, I'm doing my bit for tomorrow with this reusable bag'.
The activity, which will be supported by press work created by DLKW, is the first phase of the supermarket's plan to reduce the environmental impact of its carrier bags by 25% by the end of the year.
A second promotional drive will focus on how much packaging it is saving on its products, while further work will concentrate on saving energy, reducing carrier-bag consumption and cutting carbon emissions.
The 'Today' messaging will be refreshed throughout the year to communicate further CSR initiatives. Each will use an everyday example to illustrate the saving.
Morrisons' CSR achievements to date
Reduced the amount of packaging used for own-brand products by 7%.
Achieved a 5% reduction in energy use; more than 110,000 staff trained in energy-awareness.
Cut its emissions by saving 115,718 tonnes of carbon.
Cut carrier bag use by more than 110m.