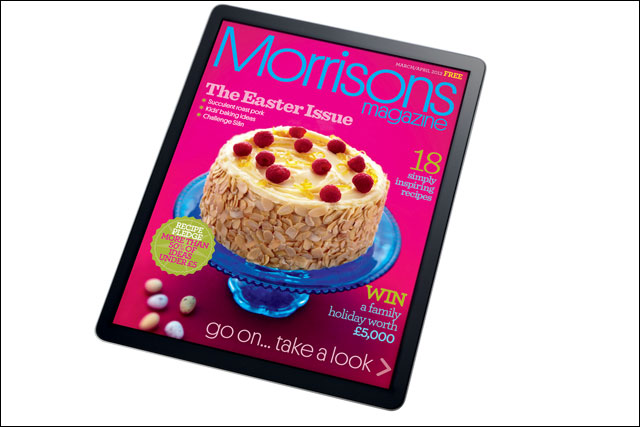 Online grocer Ocado already has an iPad app for its magazine, which is more focused on lifestyle than recipes. Several supermarkets have iPhone apps, but are yet to fully exploit the iPad's larger screen.
Morrisons' app will coincide with the redesign of the in-store magazine and will include exclusive content just for the app, including an interview with Italian chef Aldo Zilli.
The app will feature 38 pages and was created for Morrisons by Result Customer Communications, which also produce produces of the print version of the Morrisons Magazine.
Morrisons has brought in food photographers, including Nato Welton, and writers and stylists for the revamped magazine, which will feature lifestyle and travel articles for the first time.
Richard Lancaster, corporate marketing and operations director at Morrisons, said: "The new iPad version allows us to reach new customers.
"We think the iPad magazine clearly demonstrates our passion for British Food, combined with a clear understanding of what our customers want."
Recipes on the iPad magazine are presented in the form of interactive cards, showcasing products and methods, to allow readers to cook along in real time.
There will be 18 seasonal recipes, which include three step-by-step videos from M Kitchen chefs and advice from kids' cooking expert, Fiona Faulkner.
The recipe cards also include a feature that allows users to create a shopping list and draw attention to wines that would complement the recipes.
Further iPad content will include food-related news and six competitions worth approximately £10,000 in total.
A new Twitter account has been created for the updated magazine, which will enable readers to interact with the magazine team.
Dawn Alford, editorial director at Result Customer Communications, said: "Advertisers have been incredibly keen to get on board.
"Many have included video and social media links into their ads, making them truly engaging multichannel adverts.
Yesterday (8 March), Morrisons chief executive Dalton Philips laid out a vision for the chain to keep its focus on food, rather than becoming a generalist.
He said: "Our first conviction is that we will be food-focused, not a generalist. We will be better at food because we focus on food. It's 90% of our in-store business.
"Hypermarkets will be a blip in the pages of retail history. For thousands of years, people have shopped in vibrant markets, not soulless sheds."
Follow Matthew Chapman at @mattchapmanUK