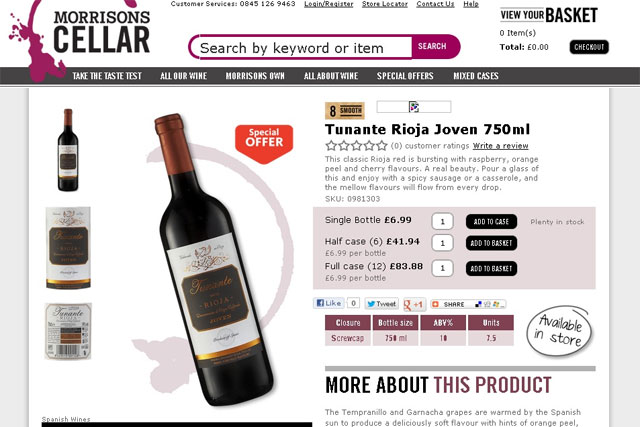 Staff at the Bradford HQ will be able to use the site from today to trial sections including "recipe ideas" and "A-Z of wine".
The launch of the wine site comes ahead of the proposed launch of a full-scale online Morrisons offering, which is expected to begin trialling at the end of next year.
Morrisons will rebrand its in-store wine departments in the spring in order to align the online and offline experiences.
The in-store redesign will be necessary because of the radical design of the Morrisons Cellar site, which will focus on social and mobile elements.
Alison Lancaster, chief marketing officer at Kiddicare and marketing director of Morrions online non-food, told Marketing that Morrisons has "done some pretty different things with our wines site that doesn't yet look identical to the Morrisons in-store experience."
The wine site has been made in Peterborough, the headquarters of Kiddicare, by a dedicated team that have worked closely with the commercial teams at Morrisons' Bradford headquarters.
Lancaster said: "One of the main reasons for doing this was to test and learn how we could start to work together and work out how to roll out new categories at rapid pace."
Speaking at the Internet Retailing Conference, Lancaster denied Morrisons was at a disadvantage to archrivals Tesco, Sainsbury's and Asda due to it taking so long to enter ecommerce.
Lancaster said: "We genuinely believe there's a second mover advantage because a lot of people rushed in headlong thinking we've got to get into dot com and they rushed without really thinking about what the vision was for the future.
"So they've all started the same kind of stuff in the same kind of way and it is not joined up and no one is really making a lot of money doing it that way in the online space."
The wine site will eventually be integrated into the main Morrisons ecommerce site when it launches, but Lancaster would not reveal the launch date for the main site.
A click-and-collect offering could be on the horizon as Morrisons seeks to roll out 300 of its convenience stores and Lancaster adding that "as a retailer now you just have to be anywhere and everywhere customers want you to be".
Follow @mattchapmanuk