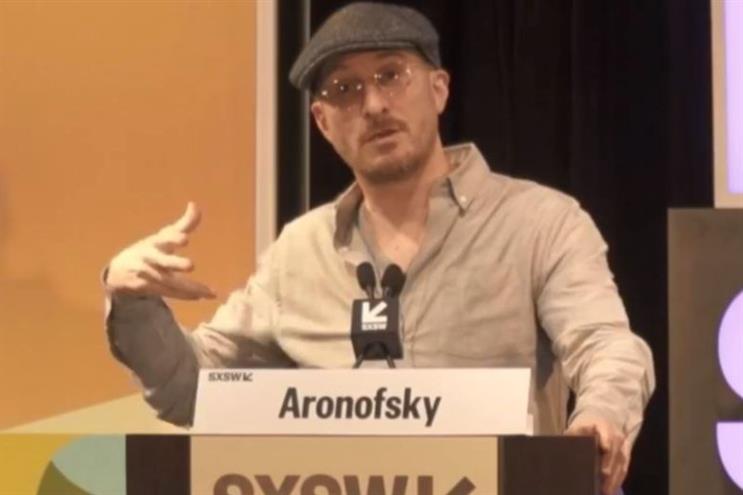 "Mother!" director Darren Aronofsky rallied the creative world by reminding us of its roots at SXSW.
The Academy Award-nominated filmmaker and founder of Protozoa Pictures delivered his keynote speech in the style of the Ten Commandments, playing on the biblical themes of his movies.
"Art is about disruption, especially today," he told an audience. "With all the shit going on, you have no excuse to make empty films. It doesn't have to have a political objective, although that's great. If it doesn't, it has to be extremely honest and human.
"Making something deeply human is what it's all about. Don't worry about being preachy, or overly earnest—I'll always beat you that way. Focus on human love, and not human violence. Never stick a gun in a movie star's hands. Never stick a gun in anyone's hands if you can help it. Fuck the naysayers and try to help change the world."
"To quote Neil Tyson, my hero this week: 'Creativity that satisfies and affirms your world view is entertainment. Creativity that challenges and disrupts your world-view is art. So go be artists. Please. And also, entertain us as well.'"
Aronofsky spoke about the need for storytelling. He said he fell in love with it when he was backpacking around Europe after graduating high school early at the age of 17.
"It's an art. It's a science. It's more than that. I think it's actually what makes us human. Stories are what lifted us out of the animal kingdom and helped us build civilization," he said.
The director also delved into his latest film, "Mother!," starring Jennifer Lawrence, Javier Bardem and Michelle Pfeiffer. It plays on the human connection with Mother Earth. That message is personified through a relationship.
If you haven't seen it already, don't bother watching it on your iPhone or tablet, he pleads. But if you do, invest in some quality headphones, because the team spent forever on the sound design—something that's more important to Aronofsky than image, he said.
"The way I see we treat Mother Earth is really incredibly disrespectful," Aronofsky continued. "We pillage her, we take from her, we rape her, we drill into her. We call her 'dirt.' In fact, that's the one thing the British have over us—they call it 'earth.' When you go into the garden you're playing with earth, we play with dirt. I mean, how gross is that? There's such a disconnect from our mother, this one spaceship that we're all traveling on. It's very hard to connect this global consciousness that we're all here together. For me it was just a lot of expression."