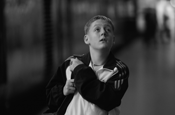 The film, entitled Somers Town, is named after an area in Kings Cross. It tells of the friendship between two teenagers, one of whom is the son of an immigrant working on the new Eurostar terminal.

Mother pitched the idea to Eurostar after it was eliminated from its £10 million pitch in 2006. The project was conceived as a series of short films, but evolved into a feature when Meadows agreed to direct.

The initial script was co-written by the Mother creatives Augusto Sola, Gustavo Sousa, Markus Bjurman and Ben Mooge. Meadows' collaborator, Paul Fraser was brought on to complete the work.