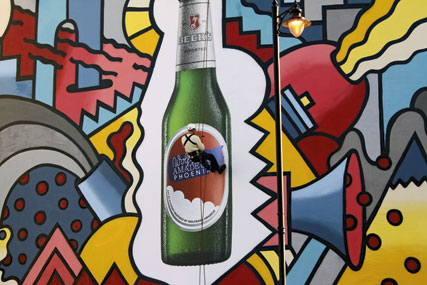 Mother London, in conjunction with Mother New York, pitched for the business against undisclosed agencies. The previous incumbent on the account was Publicis.
Mother, which already handles the advertising for the AB-InBev beer brand Stella Artois, will work on a fully integrated campaign for Beck's to be released next year.
Publicis first won the business in August 2009, in a pitch, after the previous incumbent Lowe resigned the business.
Beck's has traditionally aimed to align itself with the music and art worlds in its advertising and its major TV campaign, breaking two years ago, was for Beck's Vier, its premium 4% beer.
In September last year, the brand launched "Beck's Music Inspired Art" campaign with four new label designs created by bands Ladyhawke and Hard-Fi.
As part of the campaign, the lager brand took over three of London pubs and redecorated their exteriors based on songs by The Cure, Prince and Kraftwerk.
Stef Calcraft, a partner at Mother, said: " The brief the Beck's team gave us was one of the most challenging and inspiring we have yet received and it demanded the best of Mother. We are truly excited about the potential of the idea we have created to break new ground."