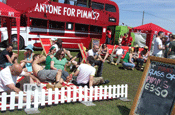 The new unit will offer clients experiential and sponsorship-based advertising and has already secured a series of projects for the existing Mother client Pimm's.

The agency has launched a comedy festival in London's Holland Park called Pimm's Summerfest and will run events at the Latitude festival in Henham Park, Suffolk. The unit has also brokered a deal to broadcast a sponsored programme, Latitude 2008, with Pimm's, that will be screened on ITV2 and ITV3.

Robert Saville, a partner and creative director at Mother, said: "Mother has a bunch of creative people that need outlets beyond the normal channels. Mother Experience will deliver these ideas for us and for forward-looking clients."