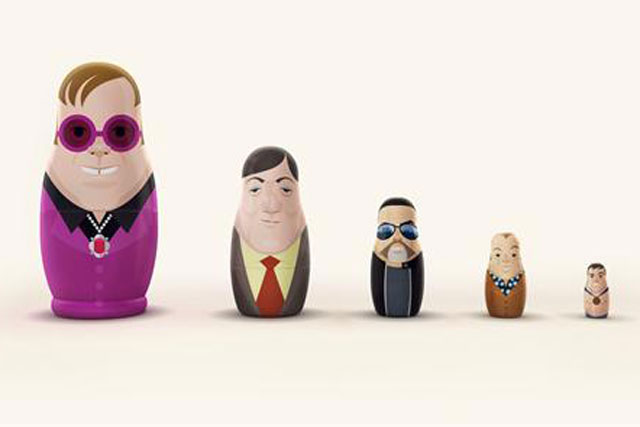 The agency has created seven hand-painted sets of Russian nesting dolls painted in the images of Elton John, George Michael, Stephen Fry, Graham Norton and Tom Daley.
Mother is auctioning five sets of the dolls between 13 and 22 December to raise money for the LBGT human rights charity The Kaleidoscope Trust. The agency will also send a set of dolls to the Russian embassy in London and to the Kremlin.
The stunt is intended as an act of solidarity with the lesbian, gay bisexual and transgender community in Russia, where a law was passed in June that banned teaching juveniles about "non-traditional sexual relations".
The gay rights watchdog ILGA Europe has also rated Russia as the hardest place for gays to live, out of 49 European states.
Every year, Mother performs a stunt, calling it the "agency Christmas card". In 2009, it wrote an honest spam email promising to send $10,000 to the first person to respond with his or her name and bank details, and then hand-delivering the cash to that person.
Another year, the agency tried to restage the story of Mary and Joseph from the Bible by sending two actors – both eastern European and one heavily pregnant – to hotels across London to ask for a room.