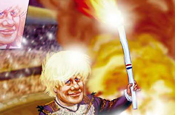 Londoners can get their hands on the Christmas issue when it accompanies Time Out as an insert.

The agency wants to project a strong sense of the cityscape that inspires their creative work.
The bumper Christmas installment was illustrated by the graphic novel publisher Mam Tor and contains five festive stories based in the UK capital.
The theme of the issue draws on Charles Dickens' A Christmas Carol in its dystopian portrayal of past, present and future versions of London life.
The stories create a spoof of life in the capital. One story reflects various distorted visions of the 2012 London Olympics, including a bewildered Boris Johnson astride a bendy bus taking part in the ceremonial parade.
Dermot McPartland, the head of Mother's experiential department, said: "Mother comics are thrilled by the reader response to Four Feet From A Rat in 2008 and already there are plans to offer more online content and publish a compendium in book format."
Four Feet From A Rat is also available to buy in independent London bookstores and the central London branch of Forbidden Planet.