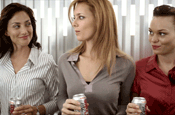 The agency's first work will be a campaign for Diet Coke and Coke Light that will run across all of Coca-Cola's European markets, including the UK.

Mother's appointment is expected to have a significant impact on the work that VCCP does for the brand. The agency has handled the UK advertising account since October 2004, but was not asked to pitch for the pan-European brief.

Coca-Cola is now likely to axe the Diet Coke hunk character, which was recently reinstated by VCCP.

Andy Medd, the partner and head strategist at Mother, said: "It's pretty daunting to follow in the Diet Coke hunk's footsteps, but maybe it's time for him to retire.

Everyone at Mother is completely over-excited about this appointment and it's probably one of the biggest things that's ever happened to us."

A spokeswoman for Coca-Cola said: "Coca-Cola Europe has enlisted Mother London to explore creative work for Diet Coke and Coke Light.

"In light of this, Coca-Cola Great Britain is currently reviewing the role VCCP will play on Diet Coke.

"This review in no way impacts the relationship that VCCP has with Coca-Cola Great Britain on any of the other brands for which they are retained."

Coca-Cola's decision to appoint a lead European agency for Diet Coke marks a significant change in its marketing strategy, as it looks to shift from a market-by-market advertising approach towards regional campaigns.

It is understood that the soft-drinks manufacturer will continue to roll out the same strategy across its other brands, with a number of pan-European advertising reviews expected to follow Mother's appointment.

Coca-Cola has already conducted a pan-European review for its Sprite brand, which concluded in July with Ogilvy & Mather Frankfurt appointed to the business ahead of Karmarama and M&C Saatchi Berlin.

The transformation of Coca-Cola's marketing strategy follows the appointment of Guy Duncan, the former Coley Porter Bell client services director, who joined as the director of creative development for Europe in June.