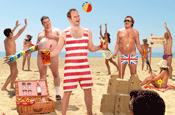 The campaign, created by Mother, will feature new press ads. One shows Harry decked in a stripy sunbathing costume on a naturist beach, replete with seagulls, topless sunbathers and sandcastles bedecked with a British flag.
The private parts of sunbathers are conveniently covered by flagpoles, books and, of course, a jug of Pimm's.
The campaign also includes re-cut versions of classic Pimm's TV ads and a branded Routemaster bus, which will visit festivals throughout the summer.
Other elements of the campaign include a sunshine finder for local pubs and parks across the country that will tell visitors what time they can expect to be bathed in sunshine.