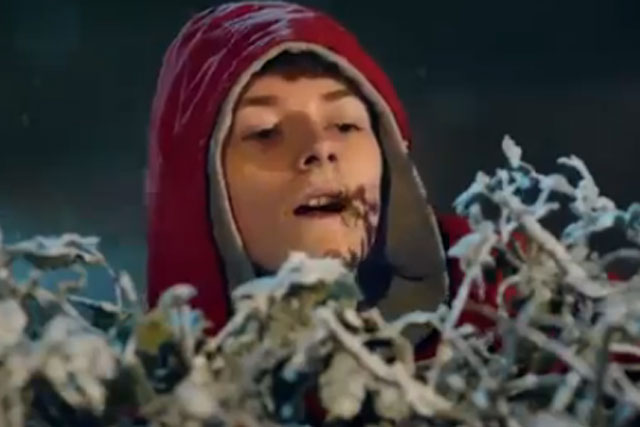 The Boots ad, which was praised for having an integrated music clue that linked to its TV ad, beat a Drinkaware ad by Leith and an O2 ad by VCCP into second and third place respectively.
The RAB's RadioGauge tool tests campaigns throughout the year against 11 statements that correspond to the 5Is of involvement, identity, impression, information and integration.
1. Boots (Creative by Mother; Media by OMD)
Boots, famous for its previous use of the 'Here Come the Girls' music, continue to prove that a radio campaign that has strong synergy with its TV counterpart will always be more successful. The brand led TV campaign used a strong emotive message of "paying back" those who had done good deeds. Complementing this with a radio campaign filled with great offers and the all-important integrated music cue, what's not to like?
2. Drinkaware (Creative by Leith; Media by Neo@Ogilvy)
Drinkaware wanted to speak to parents with their campaign and encourage them to believe that an alcohol free childhood is best. This ad demonstrates the power of sound by using the audio of a chainsaw to demonstrate that there really are some things that children just aren't ready for!
3. O2 (Creative by VCCP; Media by Zenith Optimedia)
A consistent creative idea? Check! Sean Bean has been the voice of O2 for many years now. Voice link with TV? Check! Julian Barratt brings to life the cat across channels. Recognisable strapline? Check! "Be more do" has been used throughout all media within the mix. All of this means that O2 have ticked off virtually all of the most important factors highlighted in the RAB's Turning Art into Science research, and have been rightly rewarded with a top three performance.
4. Walkers (Creative by Abbott Mead Vickers BBDO; Media by OMD)
Finding the right ambassador for your brand can be a significant discovery. Take Walkers and their longstanding relationship with Gary Lineker. The instant association between his voice and the Walkers brand helps drive cut through and appeal of their advertising; and with a light hearted touch they here deliver a clear competition message on air.
5. Camelot (Creative by AMV BBDO; Media by OMD)
I've got my ticket, don't want to miss it. It was hard not to miss this campaign as it dominated the airwaves (and beyond) in November 2013. Using regular people, rather than professional singers both on TV and radio for their rather catchy song helped to demonstrate that Lotto is a game that everyone can be involved in.
6. EE (Creative by M&C Saatchi; Media by MEC)
Clarity has always been something that listeners appreciate, and this EE ad has great offers but keeps them succinct. Combining this with Kevin Bacon who has become a recognisable face and voice for the EE brand helps communicate an appealing and timely offer without confusing listeners.
7. Mr Kipling (Creative by JWT; Media by Starcom MediaVest Group)
As previously discussed in the RAB head of creative development, Clare Bowen's, blog, tone of voice is very important. It could have been an easy and tempting option for Premier Foods to use the stereotypical "shouty radio voice" for their £1 a pack promotion. Instead they decided to go with a soft, gentle, quintessentially British voice that fits the brand perfectly and sits comfortably alongside their previous TV ads.
8. Confused.com (Creative by Publicis; Media by PHD)
We often find that when a brand decides to go with a new creative route, overall RadioGauge creative scores can tend to suffer because instant recognisability on radio drops and it can take a few campaigns for levels to go back up again. This doesn't seem to be the case for Confused.com's new character, Brian the Robot, whose naivety to sensitive situations has seen him quickly become a radio advertising favourite with our RadioGauge respondents.
9. EDF (Creative by AMV BBDO; Media by Havas Media)
The RAB's insight manager, Michael Tull, has previously discussed the benefits for advertisers who use music in ads and in this ad, EDF have clearly seen the power of music by utilising Philip Oakley's "Together In Electric Dreams'. As shown in the RAB's Turning Art into Science, music can be a powerful tool for a brand, especially if used over a period of time, so let's hope to hear more of this from EDF!
10. Moneysupermarket.com (Creative by Mother; Media by MediaCom)
In the price comparison market, stand out is everything. Almost all brands within this sector not only use a significant amount of radio, but also understand that consistency is king. So how do you cut through all of that? Well you do something a little different to them. Moneysupermarket have utilised sound effects to clearly demonstrate their success in a highly competitive market and have combined this clear messaging with their well known, "You're so Moneysupermarket" strapline.