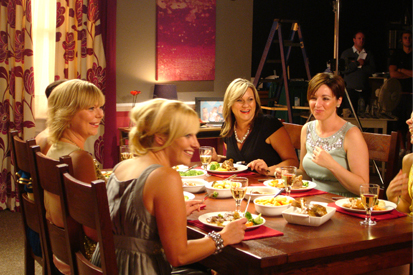 The success of social networking sites such as Netmums and Mumsnet has created a body of 'real mums' and a potent force that politicians cross at their peril, as Gordon Brown discovered when he failed to answer a question about biscuits during a webchat.
However, the latest trend favoured by brands is to put mums in front of the camera as well as looking to them for marketing advice. For example, in the US, Procter & Gamble put real mums' transatlantic counterparts at the heart of its sponsorship of the 2010 Winter Olympics. Its 'Thank you Mom' campaign, celebrated the contribution made by the mothers of athletes to their success, and paid the transport costs for them to travel to Vancouver.
The initiative will be rolled out globally for the London Olympics in 2012. Marina Barker, UK corporate communications director at P&G claims that although the activity focused on mothers, it had a wider appeal.
'This campaign resonates with almost everyone and it is a great way for us to engage people with our message,' she says.
Cost-effective approach
Iceland is the latest brand to use ordinary mothers in its marketing, drawing a line under its celebrity-focused strategy of recent years. Marketing revealed last week that the frozen-food chain has enlisted 17 real mums for its forthcoming campaigns.
'None of the women are actresses, but we were hugely impressed with the drive, energy and passion they had for the brand and we wanted to capture their realness and put it in an ad situation,' says Iceland's marketing director, Nick Canning.
Using consumers in advertising has, of course, been done before, with brands such as Dove, LK Bennett and Birds Eye all running campaigns featuring 'ordinary people'. However, in Iceland's case, it remains to be seen whether they will prove to be more effective brand ambassadors than celebrities, or simply a less-expensive, less-compelling option.
According to Ian Pearman, managing director of ad agency Abbott Mead Vickers BBDO, using real mums is 'undoubtedly cheap creative to make', but he also points out that using the 'simple logic' of getting customers to recommend a brand to other potential customers is very powerful.
'I suspect that user perception is at the nub of this campaign, and there would have been a strict casting brief for the type of mum Iceland wants, which is basically not the current customer base it has,' he adds.
Pearman argues that one of the main factors driving this 'renaissance of recommendation' is the growth of social networks, a view shared by Philippa Roberts, co-founder of marketing consultancy Pretty Little Heads. 'The Mumsnet phenomenon has made marketers and advertisers appreciate that there is massive value in female networking, as mums talk and share information,' she says. 'The use of real mums reflects a broader trend in advertising, where they move away from elaborate, highly produced communications, toward the small voice of reality.'
Motherhood is a particularly powerful motivating characteristic that unites a significant section of society. Social networking sites aimed at mums are among the fastest-growing on the web, offering not only a platform for their members to discuss brands among themselves, but also a channel to speak directly to brands.
It makes sense for advertisers to take account of this because it offers the opportunity to develop cost-effective marketing campaigns that carry a powerful proposition for a huge audience that is already engaged and responsive.
While it may be too early to discern a long-term trend in brands' use of real mums, the current appetite for authenticity in advertising means we can expect many others to follow the example of Iceland and P&G.