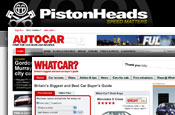 Together with evecars.com, the websites recorded a collective ABCe figure of 3.57 million unique users for March, with a daily average of 200,655 unique users.

Pistonheads and Autocar recorded their debut ABCe stats for March, reporting 1.9 million and 403,200 unique users respectively, while Whatcar's March audit recorded 1.3 million unique users.

Patrick Fuller, publishing director at Haymarket Motoring, said the figures confirmed the network's reach across the sector at a time when new car sales are down year on year.

Jan Pitt, director of magazines at ABC, welcomed Haymarket's move to report online traffic for its motoring sites.

"The figures are an important trading tool for both media buyers and owners, and act as a value resource when trading media space," she said.