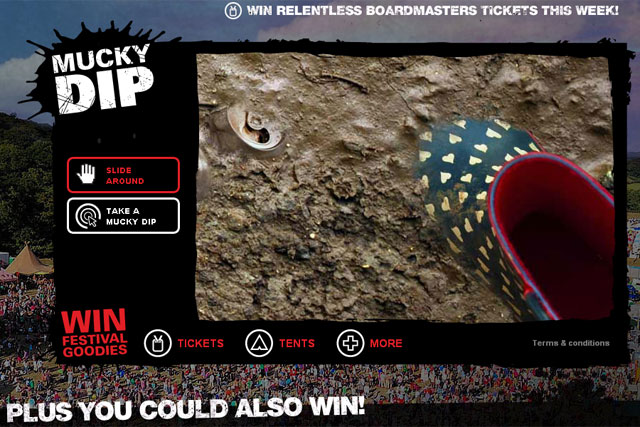 The campaign, which runs across print, digital and radio, explains how the device's waterproof and shudder-proof qualities make it perfect for summer festivals.
It kicks off with an online game called Mucky Dip, created by Ogilvy Action, running across all relevant Bauer Media sites and a dedicated website.
Players must pick the muddy festival field where they believe a prize is buried. Prizes include festival tickets and winners will be entered into a prize draw to win a VIP trip to Ibiza.
The festival-proof website will also host highlights from the UK festivals this summer.
On 19 August a Mucky Dip festival-style event will be held in central London in conjunction with Kiss FM. There will be a guest celebrity and attendees will have the opportunity to win a range of festival related-prizes, including tickets, sleeping bags and tents.
Mindshare handled the media planning and buying for the campaign.
Motorola will also have a presence at Radio Aire's Party in the Park and Relentless Boardmasters, where the company will host a festival proof chill out zone where visitors can charge their phone, listen to music and enter competitions.
Victoria McManus, UK marketing director at Motorola Mobility, said: "Our Festival Proof campaign has been designed to bring the product features to life in a way that is fun and highly relevant for the target audience and ultimately designed to get the product into their hands at live events so that they can see its unique qualities for themselves."
Motorola launched the Defy in October last year, positioning it as party-proof with an integrated marketing campaign including a TV ad.