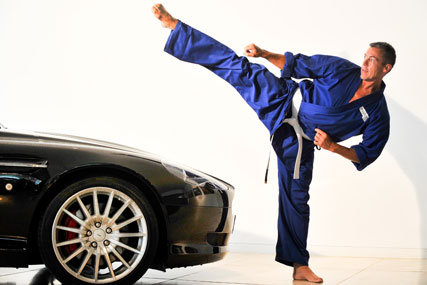 The new Tai Chi programme has been devised by fitness expert Dean Hodgkin who guides motorists through moves like the "Motorvator" and the "Steering Wheel of Life".
These can be performed behind the wheel – although the company does stress they should not be practised by the driver while the vehicle is in motion.
Research carried out by Motors.co.uk has discovered that people find car-buying a stressful experience, which leads to sleepless nights and arguments.
Motors.co.uk already features a mascot called Motor Sensei, a Japanese guru versed in the ways of Zen thinking. Motor Sensei features in the in-car Tai Chi video along with Hodgkin. It is being featured on the motors.co.uk website and can also be seen on YouTube.
Dean Hodgkin will also be on tour during August demonstrating Tai Chi sponsored by Motors.co.uk. There is a Twitter feed promoting the campaign @MotorSenseiSay and a Facebook page.
Katie Wardle, head of marketing at motors.co.uk said: "From our research it was clear that buying a car is a major cause of anxiety and the launch of the video guide is a fun way to help our customers to relax and stay calm."
Motors.co.uk is part of A&N Media, the consumer division of the Daily Mail and General Trust plc, whose digital portfolio includes Jobsite.co.uk, FindaProperty.com, Primelocation.com and motors.co.uk.