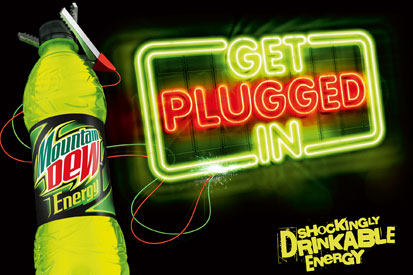 The soft-drink brand, which has been absent from the market for 12 years, will return under the extended brand name Mountain Dew Energy.
The product will be rolled out in stores including Sainsbury's, WH Smith and independent retailers over the next month, priced between 99p and £1.40 for a 500ml bottle. The drink will initially be available in lemon and lime flavour.
PepsiCo's decision to relaunch Mountain Dew solely through social media activity, created by digital and mobile agency 20:20, will attempt to build on an online petition calling for the brand to return to the UK.
The campaign will encourage Facebook and Twitter users to 'get plugged in' to the 'shockingly drinkable energy'.
It will initially target the drink's fans, encouraging them to update their status with Mountain Dew Energy information as well as entering comp­etitions.
PepsiCo brand manager Tiffany Welsh said: 'The launch is all because of fans and their online campaigning, so it felt right for our marketing strategy to be an extension of this. That's why we have focused on social media, to harness the power of word-of-mouth that made this launch happen.'
Mountain Dew launched in the UK in 1996, but was withdrawn two years later following poor sales.
The brand has, however, remained strong in the youth market through global associations with extreme sports and computer games. Mountain Dew is one of PepsiCo's best-selling drinks in the US. The company is hoping that by
positioning it as an energy drink it will have greater success second time around.
The UK soft-drinks market is worth £8.6bn, according to The Nielsen Company. Cola is the top category, followed by pure juice. The glucose and stimulant drinks category, in which Mountain Dew Energy will be positioned, is the third-biggest, worth £567m in 2009, up by 7% on the previous year.
Mountain Dew is not the first brand to be reintroduced following online petitions. Cadbury revived Wispa in 2008 following a Bring Back Wispa campaign on Facebook.