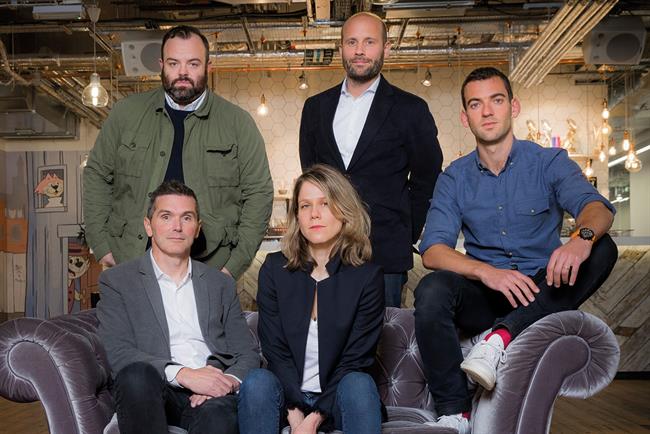 Tammy Einav, Mat Goff, Richard Brim, Alex Hesz and Anthony Falco have been unveiled as the new management team at Adam & Eve/DDB. Managing directors Einav and Goff have been named joint chief executives. Executive creative director Brim is now chief creative officer. Hesz, the executive interactive director, becomes chief strategy officer. Director of production Falco is now chief production officer.
The future of founders Jon Forsyth, David Golding, James Murphy and Ben Priest is unclear. They are still in discussions with owner Omnicom. Along with executive creative director Ben Tollett, they are expected to take group-level roles.
Newsworks has appointed Vanessa Clifford as chief executive of the newspaper trade body for the advertising industry. Clifford was previously deputy chief executive and took the job on an interim basis after Rufus Olins quit after four-and-a-half years for Co-operative Group.
The Advertising Standards Authority has named Lord David Currie as its new chairman, to succeed Lord Chris Smith next year. Currie is a cross-bench peer, and is currently the inaugural chairman of the Competition and Markets Authority.
Smith will step down after a decade in the role. Currie has combined a career in academia (he started life as an economist and was dean of Cass Business School) with regulatory positions (including at Ofgem and Ofcom).
General Mills is set to create a global chief marketing officer position amid a restructure that will axe up to 600 jobs worldwide. The company is also parting ways with Ann Simonds, the US senior vice-president and chief marketing officer, and is axing the international chief operating officer role.
Jeff Harmening, General Mills' president and chief operating officer, has assumed global operations responsibilities. The company said it intends to name a new global chief marketing officer/marketing innovation leader, who will report to Harmening.
Jan Gooding, the group brand director at Aviva, has been named global inclusion director at the insurance company. She will become the first director at Aviva to focus on the inclusion and diversity strategy full time and will take on the role in January. Gooding joined the insurer in 2008 having previously held positions at BT and British Gas. Aviva confirmed that it will replace her.
Abbott Mead Vickers BBDO has promoted three creative director teams to creative partner level in a bid to bolster the agency's creative leadership. The promoted duos are Nadja Lossgott and Nicholas Hulley; Toby Allen and Jim Hilson; and Phil Martin and Colin Jones.
Karina Wilsher, partner and chief executive of Anomaly New York, has been promoted to global chief operating officer. Wilsher will assume the new role on 1 January and report to Carl Johnson, the founding partner and global chief executive. Wilsher, who joined Anomaly in 2010 after ten years at Fallon, will relocate to London.
Rob Beevers has joined Sky's sales and marketing team as head of media strategy and effectiveness, reporting to Andrew Mortimer, director of media. His role aims to support the media effectiveness agenda and to help improve Sky's understanding of the links between media activity and business outcomes. Beevers joined from Ebiquity where he ran the multi-channel analytics practice.
Lance Crozier, head of art at Leo Burnett, has joined WCRS in the same role. It is a new post at the Engine-owned agency, which has added a further six people to its creative department. He will be joined by new senior creatives Aaron McGurk and Chris Lapham.
The duo arrive from TBWA, where they worked across the network's London, New York and Los Angeles offices. WCRS has also hired four junior creatives – Freya Harrison and Gina Ramsden, and Alicia Job and Jessica Watson.
Cawley Nea\TBWA has rebranded as TBWA\Dublin. In addition, to the new rebranding TBWA\ Dublin has also appointed John Kane, the founder of Australian agency Happy Soldiers, as executive creative director.
The Marketing Academy has made four appointments. Former Vodafone and Mondelez marketing chief Daryl Fielding has been appointed to lead The Marketing Academy Foundation while the co-founder of Start Up Britain Oli Barrett joins as international development director.
Leonie Paris, who has previously worked in events at Unilever and D&AD becomes head of events of community. Additionally, Kathryn Marriott, the head of commercial marketing at Global, has been named chairman of the alumni.
Total Media has appointed Graham Martin as head of publishing. Most recently, Martin was head of commercial projects at News UK.
Playbuzz, the digital content platform with investors including Disney, has appointed Jane Loring, the former European general manager of defunct lifestyle publisher Mode Media, to the newly-created role of vice-president of European brand partnerships.
She has been joined at Playbuzz by two former colleagues from Mode Media. Victoria Pindar and Alexander Bailey, both group account directors at Mode. They will join Loring's team as advertising sales and brand partnerships directors.
London and Leeds-based digital agency Delete has appointed Philippe Feraille to the newly created role of client services director. Feraille was previously business director at Omnicom's production network agency eg+ worldwide (TBWA Network) and before this, held the same position at hub+ (BBDO Network). He will report to Delete's managing director, Alex Ellis.
The former CEO of Outsmart, Alan Brydon, has joined shopping centre media specialist Limited Space as a non-executive director.
Exterion Media has named Gillian Godsell as country director for Scotland. Previously, Godsell held the role of business director at Exterion Media, where she was responsible for delivering the company's local strategy.
Turn, the independent ad tech company, has appointed Lauren Nemeth chief revenue officer. She will lead all sales, client service and consulting operations for the firm's demand side platform (DSP), data management platform (DMP) and analytics products and services. Nemeth joins Turn from URX, the predictive mobile search engine, where she was chief operating officer.
Sam Kumar has joined AdCompass as chief revenue officer. He has previously held a number of senior roles including director of international sales for The Washington Post and nine years at The Economist where he was responsible for digital advertising in the UK and global online sales.
Infectious Media has hired Stephanie Carr to its executive team as commercial operations director to support the programmatic ad agency's global expansion. Carr joins from Marin Software where she was responsible for client operations in the US, EMEA and Asia-Pacific.