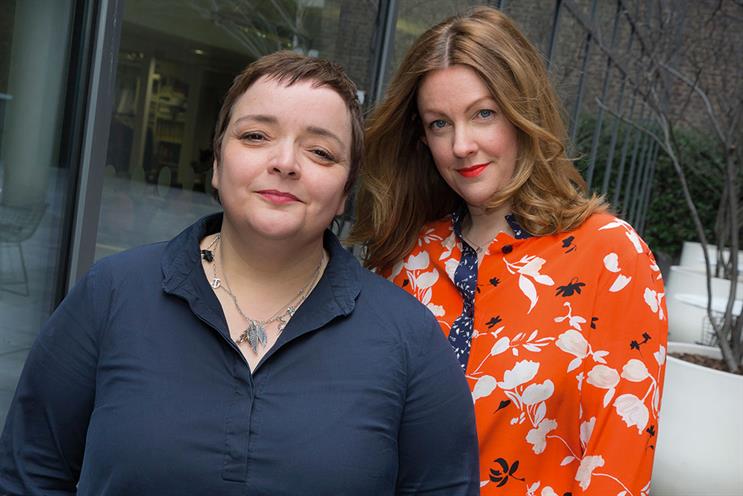 David Abraham is leaving Channel 4. The chief executive has been with the broadcaster for seven years. Jay Hunt, the director of television, is likely to be the leading internal candidate to succeed Abraham.
Caroline Pay is joining Grey London in the newly created role of joint chief creative officer. She will share the title with Vicki Maguire, who has been promoted from executive creative director.
Pay was previously deputy executive creative director at Bartle Bogle Hegarty. Maguire has been at Grey since 2009 and was promoted to deputy ECD in 2013 and ECD in 2015.
Chris Locke is stepping down as Publicis Media's UK trading chief "to pursue other interests." He has been with the company for 27 years. A decision about his replacement has not yet been made.
Richard Denney, the executive creative director at MullenLowe London, is leaving the agency at the end of March and will not be replaced. He joined the agency in 2011, when it was known as DLKW Lowe.
James Chandler has joined the Internet Advertising Bureau in the newly created role of chief marketing officer. He joins from Snapchat owner Snap where he worked on the social media company's brand partnerships.
The IAB has also promoted Tim Elkington from the role of chief strategy officer to chief digital officer, and Alex Kozloff, from director of marketing and industry engagement to chief operating officer.
Jan Gooding will be The Market Research Society's next president, replacing Dame Dianne Thompson from 1 April. Gooding is the global inclusion director at Aviva.
MEC UK has promoted Emma Dibben to the newly created role of head of print brands and media partner engagement. She was previously head of display at the agency.
Phil Chapman, vice-president for marketing communication and brand equity for the Mondelez global chocolate team, is stepping down. Chapman has been with the company for five years. He is leaving to "build a portfolio of outside interests", according to Mondelez.
Ian Twinn, ISBA's director of public affairs, is to retire after 18 years at the advertiser trade body. Twinn is also the regional chairman of the Conservatives in London and served as MEP for London from 2003 to 2004.
McCann London has appointed Lydia Barklem to the role of operations director across a roster of clients including L'Oréal, Microsoft/Xbox, MasterCard, Subway, Pandora and Premier Foods. She replaces Jo Howes, who before recently moving to Australia had held the role since 2013.
BMB has hired Matt Pam and Simon Hipwell as creative directors, reporting to the agency's chief creative officer, Jules Chalkley. Most recently, the duo worked at Fallon on Cadbury UK.
Consultancy Zag has appointed Neil Cummings as creative director. Cummings joins Zag after 10 years at Wolff Olins. He will be responsible for overseeing all of Zag's creative output.
Medialab Group has hired Steve Venes, TV director at John Ayling & Associates (JAA), as broadcast director to drive its continued growth in its TV planning and buying division. Venes joins Medialab after serving 22 years at JAA.
Tim Jones and James Cross have been hired by the BBC's in house creative agency as creative directors. The duo join from McCann Manchester.
Jason Goodman, the Albion founder, has resigned his position as chairman of the agency to pursue a career in the start-up world. Goodman founded Albion in 2002, selling the shop in 2014 to KBS – a network of agencies owned by MDC Partners.
Goodman will not be replaced. The KBS Albion business will continue to be led by Paul Jakimciw, the chief executive, and will report to Guy Hayward, the global KBS chief executive officer.
Sports and tourism specialist integrated agency Azalea has strengthened its team with the appointment of Nick Ive as media manager and Matt Lacey as events manager.
WPP's brand strategy and design agency, Brand Union, has hired Daniel Beattie as technology director. Prior to this appointment he was a freelance UX and technology consultant and has held positions at Grey London, Publicis.Sapient and Cheil Worldwide in the past.
Brand experience agency Huge has hired Stephanie King as client partner. She will report to Mark Manning, Huge London's managing director.
Marketing agency VML London has named Matt McGuire director of technology consulting. He will report to chief integration officer Mike Yardley and executive director of global technology Kris Hiestand.
Emma Booty is joining The Future Laboratory consultancy as head of design. She was previously a creative director at design studio Construct.
Perform has poached Ed Smith, the head of brand advertising at Telegraph Media Group, for the role of head of partnerships. The digital sports content and media group has also promoted Dave Winstone to head of programmatic. Winston was previously head of programmatic VoD.