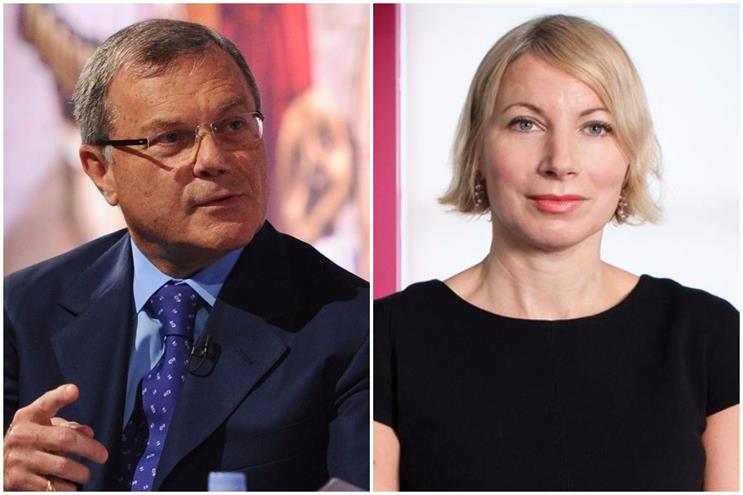 Sir Martin Sorrell has stood down as chief executive of WPP. Mark Read, the global chief executive of Wunderman, and Andrew Scott, the chief operating officer of WPP Europe, have been appointed as joint chief operating officers while the holding company looks for Sorrell's successors. Roberto Quarta, chairman of WPP, becomes executive chairman until the appointment of a new chief executive. For in-depth analysis on Sorrell's departure and what it means for WPP, click here.
Pippa Glucklich has been named chief executive of Dentsu Aegis Network's media investment arm, Amplifi UK, as part of a move to simplify the UK operation and make it "more client-centric". Glucklich was most recently UK chief executive of rival Publicis Groupe's Starcom until autumn 2017 when she took a break.
Dale Gall, the group chief executive of MullenLowe London, is stepping down after just 18 months in the role. Gall, who is leaving to pursue other opportunities outside of the advertising industry, is being replaced by Jeremy Hine, the president of MullenLowe Group EMEA.
Iain Jacob is stepping down as chief executive of Publicis Media for Europe, the Middle East and Africa. He has "decided to leave the business to pursue opportunities outside of the company", the company said. Gerry Boyle is to take charge of Publicis Media across EMEA in addition to his existing responsibilities in APAC as the world's second biggest media buyer seeks to "simplify" its business.
UM has appointed Rachel Forde as UK chief executive as parent company Interpublic seeks to make its British media operation "far stronger". Forde's appointment comes weeks after she left rival Publicis Groupe, where she spent 20 years and rose to be chief executive of Spark Foundry.
David Abraham, the former chief executive of Channel 4, is launching a company that will unite the skills of programming creation and advertising, underpinned by data capabilities. Wonderhood Studios will comprise two adjacent studios: one producing programming for broadcasters and platforms; the other will be a full-strength creative agency for major brands.
Lloyds Banking Group has appointed former MullenLowe chief executive Richard Warren to the role of director of marketing communications. Warren has spent the past year as managing director of Greenhouse Group M, the WPP media group's division dedicated to servicing Lloyds Banking Group. He will join the bank in June, and will report to Catherine Kehoe, managing director of group brands and marketing.
VCCP Media has appointed Peter Bennett into the newly created role of chief integration officer. He will sit across the media company's full range of specialisms including business, data, strategy plus the broadcast and digital implementation teams, as well as spearheading integration into the wider VCCP Group. Bennett has more than 20 years agency experience at WCRS, Saatchi & Saatchi, Havas Media Group. He was most recently at The Gate London, where he's been leading their full service media offering since 2015.
The Economist Group has combined its sales and circulation teams to form a new publisher team. As a result, Michael Brunt who was previously the managing director and chief marketing officer for circulation has been appointed chief operating officer and publisher of The Economist and will lead the new team.
Camelot UK's Richard Bateson has moved from his previous role of commercial director to become senior vice-president, international at the National Lottery operator. Neil Brocklehurst, previously managing director of Camelot Global, takes over Bateson's old role.
Stephen Mai, former marketing and creative director at LADBible Group, has been appointed by music and culture platform Boiler Room to the new role of chief content officer.
Craig Wildman has joined brand experience agency 2Heads as its global managing director. He comes with more than 20 years' experience of financial, commercial, operational and client management, across the digital, PR, experiential and creative industries arena. Most recently as he was global chief operating officer at The Communications Store.
Possible has made two new hires to bolster its creative leadership. Head of UX Scott Shaw was working freelance but has previously held roles at agencies including Huge, Isobar and R/GA. Bernadett Pap joins as creative director to oversee all creative output on one of Possible's largest clients, Specsavers. Most recently at Sapient, she has also worked brand-side at Arcadia and Asos.
Digital agency Coherence has appointed Julian Tedstone as managing director. He was previously UK head of digital at Hogarth Worldwide.
Adam Fulrath is joining live entertainment specialists Dewynters as director of creative services. Previously, as head of creative for Pottermore, Fulrath led an extensive rebrand.
Spark44 has named Lee Aldridge as creative director. He joins from Y&R London where he worked for over 18 years on a wide portfolio of clients as head of design.
Armadillo, the CRM specialist agency, has appointed Steve Jefferys as client services director to head up the client service team across all of the agency's clients. Jefferys worked for 13 years in London agencies, including CHI & Partners, Kitcatt Nohr, Proximity London and TMW, before moving to the South West.
Fjord has appointed Heather Martin as head of interaction design. In her new role, Martin will be responsible for a team of 25 interaction designers, steering the creative direction of service design projects across a number of sectors. Martin's career in digital has spanned over 20 years. Previously the vice-president of design at Smart Design, she is also a co-founder of design school Copenhagen Institute of Interaction Design (CIID).