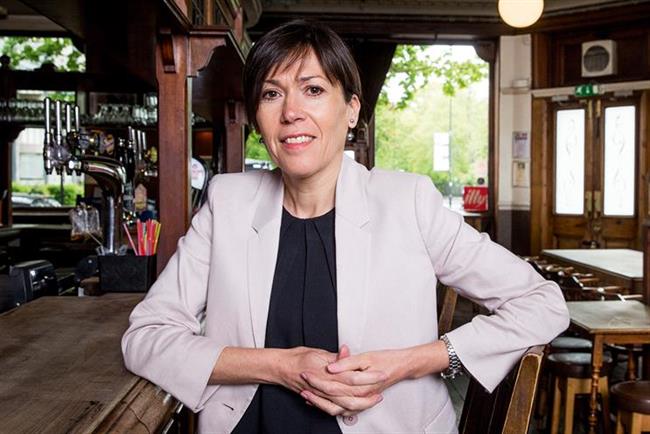 Tracy De Groose (pictured above) is expected to stand down as UK & Ireland chief executive of Dentsu Aegis Network. She has been in the role since May 2014 with responsibility for more than £1bn in annual UK billings. Dentsu Aegis Network declined to comment or confirm any change to her position. It is not known who who will succeed De Groose. She was previously the first female chief executive of its subsidiary Carat UK, which she joined in 2010 – a year after she first began work for the company as a consultant in 2009.
Paul Lawson is leaving Leo Burnett London as chief executive to take up the reins at Y&R London. He is replacing Jon Sharpe, who is is leaving Y&R London as chief executive to join fellow WPP agency VML as chief executive, Europe. Lawson is leaving Leo Burnett London after 13 years and has been chief executive since being promoted from UK group managing director in 2011. He will start at Y&R on 1 November, reporting to to the network's global president David Patton.
In a related move, Publicis Groupe is realigning the creative agency Fallon away from Saatchi & Saatchi and setting it alongside Leo Burnett. It has appointed Gareth Collins, chief executive of Fallon London, as chief executive across both brands following Lawson's move to Y&R London. Collins joined Fallon as chief executive back in 2015 from Abbott Mead Vickers BBDO where he headed up the Sainsbury's account. Fallon will move into the Leo Burnett offices in Kensington Village by the end of this year but retain separate identities.
Pippa Glucklich is to step down as UK chief executive of Starcom after five years at the agency. She will leave in December and Publicis Media is working on plans for her replacement. Glucklich joined Starcom Media Group as UK managing director in 2013, became co-chief executive later that year and was named chief executive of Starcom UK in 2016.
The Telegraph has appointed Chris Forrester to the newly created role of chief revenue officer. Forrester, who was Spotify UK manager up until April, will lead the company's advertising revenue teams including display ad sales, client strategy and development, and Spark, The Telegraph's branded content and data division. He will report to chief executive Nick Hugh.
Tim Crow, chief executive of sports marketing, sponsorship and comms group Synergy, has left the business after a decade at its helm. He had worked for Synergy for 18 years, and as chief executive for the past 10. He will "pursue new ventures", according to a statement from the agency. There are no immediate plans to recruit a successor, with the business now being led by managing director Lisa Parfitt and chief strategy officer Carsten Thode, assisted by director of strategy Tom Gladstone and creative director Josh Robinson.
Rodrigo Sobral, the vice-president and executive creative director of R/GA London, has left the agency. R/GA said Sobral departed over four months ago "to focus on his family and a personal project". Sobral joined R/GA in 2013 from The Mill Digital.
Accenture has poached OMD's EMEA president Nikki Mendonça for a global role as president of intelligent marketing operations. Mendonça will manage a team focused on helping Accenture clients operate and scale marketing plans, using predictive analytics to target the right customers across marketing channels. Mendonça is leaving OMD after 10 years as EMEA president, during which time she had responsibility for 6,500 staff working for brands including McDonald's, PepsiCo and Walt Disney.
Wunderman London has promoted chief operating officer Pip Hulbert to chief executive, replacing Chris Perry who left nearly two years ago. Hulbert, who joined the WPP agency in 2013 from Lida, is credited with playing an instrumental role in helping the agency win the BT and EE consolidated direct marketing and CRM account, the biggest account win in the sector in recent years.
J. Walter Thompson London has appointed Jo Wallace as creative director, working primarily on Nestle. Wallace, a champion of female success, was most recently freelancing at Publicis. She has also worked with Tribal DDB, and was regional creative director (EMEA) at Saatchi &; Saatchi, and creative director at DraftFCB, now FCB Inferno. Wallace has organised several art exhibitions including "There's a Good Girl" which showcased female creative talent; and "There's a Good Immigrant" which celebrated the diverse perspectives of migrants. She also hosts the female-focused creative industry dining event "Good Girls Eat Dinner".