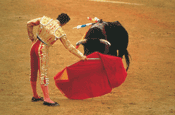 MPG, which pitched for the business against Mediaedge:cia and Carat, will ad online planning and buying to its offline account.

Media Contacts, MPG's sister digital network, will work on the online side of the account with MPG Madrid, which will lead the business.

MPG will handle media for international campaigns across 34 markets including key European markets, US and Australia.

Rafael Urbano, the general director of MPG Madrid, said: "During these uncertain times it is key to invest in differentiation strategies, just like Turespana has done."