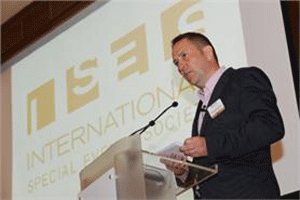 The key points of the collaboration are as follows:
ISES and MPI will jointly promote their event activity and encourage members to attend each other's events – increasing the overall breadth and number of participants.
ISES and MPI will investigate and action a number of joint events at key dates throughout the year. An example was 2010's Christmas "Mistletoe" event. Both associations will also maintain their own schedule of individual events as they currently do.
ISES and MPI will consult to minimise the crossover of event date clashes throughout the year.
The executive boards of each association - comprising president, immediate past president and president-elect - will meet on a quarterly basis to investigate further opportunities to work together and expand the associations.
"We are looking forward to the benefits a joint collaboration between ISES and MPI will bring," said MPI UK and Ireland Chapter president Fiona Pelham.
"MPI and ISES have similar infrastructures and membership models; both are international; and both are based on individual membership to promote personal education, knowledge and career progression. These similarities provide a great framework for mutual benefits across the membership of the two associations."
"ISES represents people involved in creative event marketing activity while MPI represents the professional and event planning sector; in our view these are two very complementary associations," said Imagination director and ISES president Richard Foulkes.
"ISES see this collaboration as a way of continuing to demonstrate value to our membership, providing even more quality education and a greater network for our members to connect and be inspired."
To leave a comment
register
and let us know your thoughts.