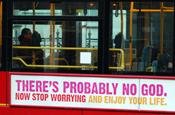 The British Humanist Association has angered religious groups by running the posters on the Tube and 800 buses throughout Britain.

The Labour MPs Jim Dobbin and David Drew, the Independent Bob Spink and the Democratic Unionist Gregory Campbell have tabled two Commons motions attacking the "religiously offensive and morally unhelpful advertisements".

The Government is expected to leave a decision to the Advertising Standards Authority, which has received a formal complaint from the Christian Voice group.

Stephen Green, its national director, said: "I think the advertisers are really going to struggle to show their claim is not an exaggeration or inaccurate, as the ASA code puts it."