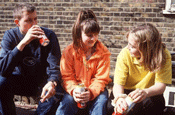 Twenty nine MPs from all parties have signed a Commons motion which also urges the Government to ban alcohol ads being shown in cinemas before films with a certificate below 18.
The motion, tabled by the Labour backbencher Lynda Waltho, argues that "underage exposure to the promotion of alcohol is more dangerous than exposure to fast foods". It also expresses concern about the "growing social and health harms through increased under-age alcohol consumption" and says alcohol increases the risk of people becoming a perpetrator or victim of crime.
The MPs have backing for restrictions on broadcast ads from the British Medical Association, the Royal College of Physicians, the British Heart Foundation, Alcohol Concern and the Suzy Lamplugh Trust. They urge the Government to "take a lead" on the issue of advertising as it develops its national alcohol strategy.
Sir Liam Donaldson, the Chief Medical Officer at the Department of Health, added to the pressure on ministers to act by calling for drinks companies to be banned from sponsoring sports and other events associating alcohol with physical fitness. "It's something that worked with tobacco,"he said.
Government sources said the motion would be considered as part of a review of 24-hour licensing being conducted by the Home Office and highlighted by Gordon Brown this week when he acknowledged public concern about alcohol abuse. The review is due to be completed by the end of the year.