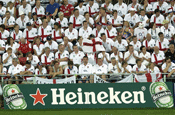 Ministers are cautious about the plan, which would deprive sport of millions of pounds of revenue. But backbenchers say there is growing pressure for action because of the rising concern about binge-drinking among young people.

Howard Stoate, a Labour MP and GP, said: "Britain's alcohol rules say that ads for alcohol should not appeal strongly to people under 18.

"And yet it seems that the regulators and the Government see nothing wrong in allowing our leading football teams and most successful sportsmen - with their millions of young fans - to be closely associated with alcohol products."

Stoate claimed strong public and Parliamentary support for a total ban. "There's a move towards it. It is a matter of just making the argument and persuading people of the correctness of our case," he said.