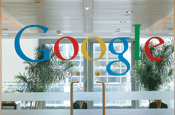 Twenty-six MPs have signed a Commons motion expressing concern that Google has increased its share of the market to almost 90 per cent in the past year.

They urged ministers to "consider measures to prevent the monopolisation of the online search advertising market".

The MPs hope to persuade ministers to refer the issue to the Competition Commission. They pointed to similar investigations that were held into Microsoft in the US, even though proposals to break up the company were eventually blocked.

The motion has been backed by 23 Labour MPs, one ?Conservative, one Liberal Democrat and one Scottish Nationalist.

Andrew Dismore, one of the Labour MPs, ?said: "A monopoly is unhealthy. Google cornering ?the market is not good for competitive pricing or quality of service.

"The Government should recognise that there is a potential problem.

"This has to ?be regulated. The Competition Commission should ?draw up recommendations ?to protect consumers - in this case, the people buying the advertising."

It is the second attack by MPs on Google this month. Seventy MPs have signed a separate Commons motion criticising the company's decision to run online gambling ads in a recession.

The signatories include 55 Labour MPs, ten Liberal Democrats, one Conservative, one Welsh Nationalist, one Scottish Nationalist and two Independent MPs.