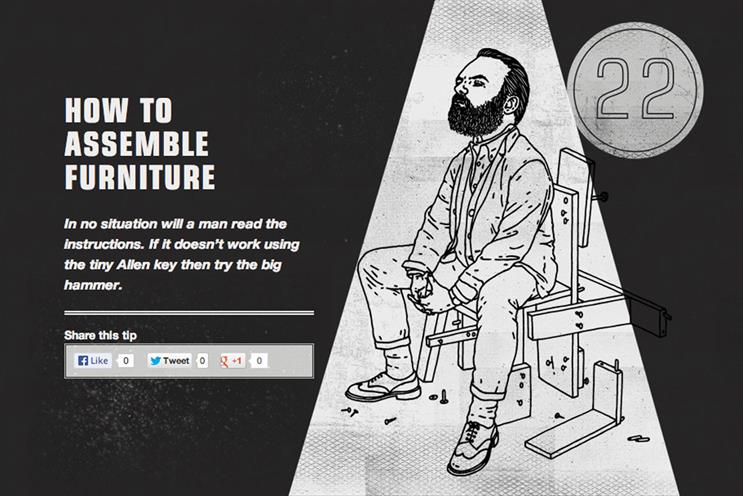 Tell us a few things about this project. AnalogFolk asked if I was interested in creating a series of black-and-white illustrations about men being manly men. As soon as I spoke to them, I kind of got the vibe and knew what they wanted and, luckily, it turned out nice.
I'm not at all manly. I'm 34 years old but my upper body is similar to a 13-year-old boy and I can't grow stubble evenly. When I was 17, I got beaten by a girl in an arm wrestle. It's a f*cking miracle I've got a girlfriend, to be honest. I do know some really good manly men, though, and I used them to pose for reference shots for a lot of the illustrations, which was fun.
How did you get into illustration? I studied graphic design at university. At the end of the first year, we had the opportunity to either go down the route of graphic design or illustration. I didn't know what I was good at, so the class had a vote and it was a unanimous "yes" for illustration, so I got into it by a crowdsourced decision. After leaving university, I still wasn't sure what I was good at and, after stints in a shoe shop and HSBC, I ended up turning illustration into a career.

What other projects are you most proud of? My "hate mail" project. I'm proud of it because it was a drunken idea that turned into a book published by Penguin and an exhibition (KK Outlet, 6-29 June – plug!), and gained a lot of press including The Times and The Huffington Post. I must be the only person in the world who gets paid by strangers to tell them to f*ck off by post. If you Google "hate mail", I think I now rank number one for the phrase. It's a nice position to be in. It confuses people as well, which I like.


What inspires you? Humans, especially fat ones and unintelligent ones and ones who are funny but without realising, animals, dogs in clothes, found type, handmade signs, found photos, postcards, typography catalogues, train journeys, newspaper headlines, overheard conversations, everything.