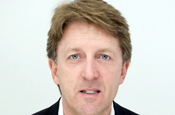 Cornwell's most recent role was as the chief executive of Joshua G2, a job he left in December last year after just seven months.

Before that, he was the chairman of the digital agency Soup, and had also been the chief executive of Tequila\.

Cornwell replaces Alastair Duncan, who left MRM in December without a job to go to.

He had spent four years in the role, and was instru-mental in helping the agency pick up accounts for Mastercard and Sky.

In the long term, Cornwell will be responsible for driving the agency's growth in the interactive, online and CRM spaces, and ensuring its London operation is positioned to play a major part within the MRM Worldwide network.

Cornwell said: "This was an opportunity that was just too good to turn down. I've been deeply impressed by what MRM already has going for it, and I look forward to helping develop it even further."