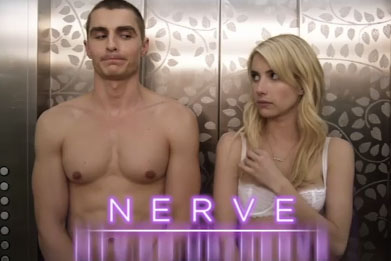 The post-9pm watershed ad was for an MTV-branded competition based on the premise of the Lionsgate film Nerve, in which the characters perform dares in return for money.

It featured a voiceover that stated: "To celebrate the release of Nerve, we are giving you the chance to win a cash prize. We just want you to show some nerve. Head to mtv.co.uk/nerve to choose a dare, then share it at @MTVUK with #MTVGotNerve to enter. Are you ready to play?"

The voiceover was accompanied by scenes from the film, including a man on a skateboard holding on to the back of a moving car, a group of men jumping into the sea from a cliff and a man on a motorbike speeding through a red light.
Clearcast said the actual dares on the website did not encourage dangerous behaviour. They included submitting a social media clip of themselves celebrating as they would if they were to win; or hugging a random stranger in the street; or doing a victory dance at a bus stop in front of random people.

The ASA understood that Sky Media had been contracted to organise the joint promotional activity, and design and schedule the ad, but considered that MTV and Lionsgate were the advertisers for the purposes of the Code.

It ruled that, because the ad both condoned dangerous practice and was likely to encourage viewers, particularly teenagers and young adults, to engage in dangerous practices, it should not have been broadcast at any time.