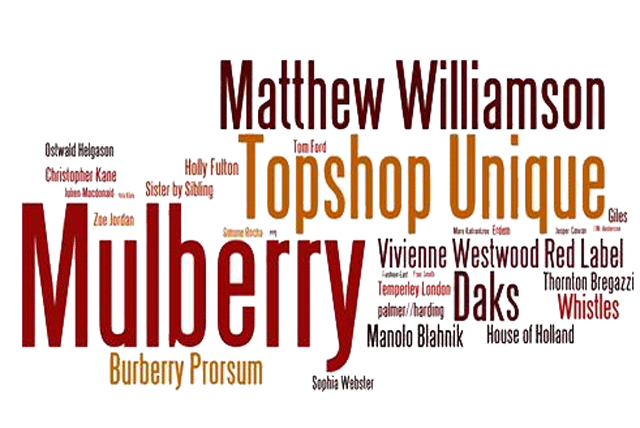 With LFW now underway, Media Measurement and Salesforce Radian6 analysed social media conversations to find out what got the fashionistas buzzing about this season's event.
Mulberry was by far the most talked about designer ahead of the event, which was mostly thanks to its innovative show invitation. Fifty nine percent of Mulberry posts mentioned the adorable tiny Wedgewood tea cups that the brand sent out to those lucky enough to be on the guest list for its show. The invites even had their own hashtag, #mulberryteacup, which was mentioned in 147 posts.
Show invitations were a very hot topic, with 11% of all posts sharing excitement and pictures of innovative invites, or lusting after a show ticket. While invitees all expressed their excitement at receiving a sought-after ticket, innovative designs received extra appreciation. Ashish and palmer//harding opted for wearable invites, which got the thumbs up from their guests.
High street brand Topshop Unique showed it could compete with high fashion designers, ranking second in the most talked about brands ahead of LFW. Conversation was fuelled by Topshop's own active social media team, who posted regular updates about preparations for the forthcoming event and offered LFW style appointments with fashion guru Lulu Kennedy at its Oxford Street store. There was also lots of chatter about Topshop moving its LFW venue to Regent's Park, and the grand unveiling its SS14 showspace.
Several designers, including Matthew Williamson, Daks, Whistles, Julien McDonald and palmer//harding, ran competitions to win tickets to their shows, which boosted their position in the 'most mentioned' designer rankings. In fact, 8% of all posts about LFW mentioned competitions, as designers and retailers used the tactic to enamour their fans.
Manolo Blahnik was the most talked about of all the designers making their debut appearance at LFW, trending ahead of new up and coming designers appearing for the first time such as Fashion East's Ashley Williams, Claire Barrow, and Ryan Lo. The shoe veteran's declaration that the catwalk would be scented with Jo Malone at a show designed to delight all five senses, received 50 retweets.
Salesforce Radian6 and Media Measurement are analysing all of the social media conversations about London Fashion Week over the next five days to bring you regular updates on the most talked about designers, the most wanted looks and the finest front row guests.
The report analysed English language social media posts mentioning London Fashion Week (and variations) on Twitter, Facebook, blogs and forums, from 5th to 11th September 2013.
This article was first published on The Wall Blog