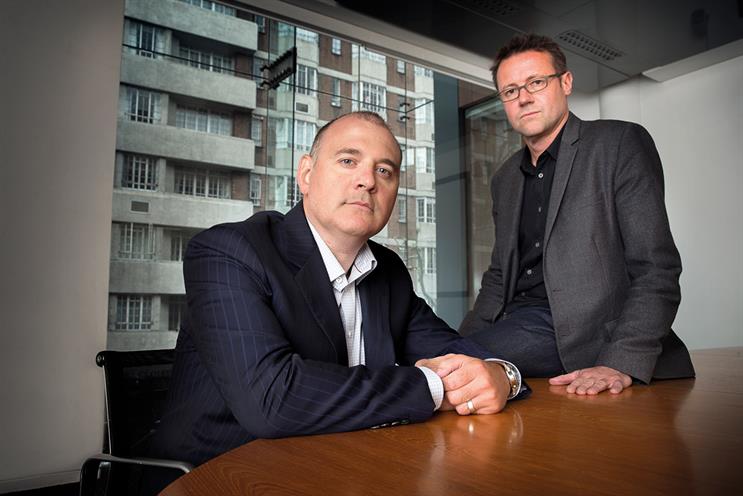 Hegarty, Lowe, Ogilvy and the Saatchis." Alex Leikikh, the global chief executive of the newly created Mullen Lowe Group, is listing British advertising legends.
He continues: "The UK has always been an extraordina­rily important market in the field of advertising. Practically speaking, it's also an im­portant business market. It should be a growth engine as an office going forward."
His comments are a positive sign at the group's London agencies that their new American boss at least recognises the importance of the UK within the global advertising industry.
Leikikh is speaking to Campaign as he embarks on a two-week trip to meet with agencies in Europe and the Middle East.
As of May, Leikikh has taken charge of the 6,400-strong global group created by the merger of Lowe and Partners and Mullen, of which he was the chief executive. Michael Wall, Lowe's chief executive, left and has joined Mother.
In the UK, the merger will result in a rebrand for DLKW Lowe, which will become Mullen Lowe London. By the end of the year, the agency will also move in with its sister shops Lowe Profero (digital) and Lowe Open (shopper and direct marketing) in a former carpet factory in Shoreditch. The three agencies, which will retain separate P&Ls, will be led by Richard Warren, the co-founder and former chief executive of DLKW Lowe.
The motivation behind the merger was to create an agency with truly global scale, as well as to offer a more integrated service.
As Mullen – whose clients include JetBlue, Zappos.com and the National Geographic Channel – has grown "significantly" in the US over the past six years, Leikikh explains, brands are asking for international representation. The group seeks to take advantage of this.
Leikikh admits that Mullen has lost out on business in the past because it lacked a global offering. "I'm sure that consultants have passed us over because we didn't have a bunch of offices overseas. There's no doubt about it," he says. "So we were looking out and, at the same time, we found a partner with kindred spirits looking in."
Warren has been calling for DLKW Lowe to move to a structure similar to that of Mullen – even before a merger was mooted. He says: "I had no idea Mullen was on the cards at the time and the management team probably thought it peculiar that I was saying: 'Why can't we be more like Mullen?'"
It sounds like a fairytale ending. But it is also no secret that Lowe has suffered previous unsuccessful attempts to merge with a US agency.
Lowe's parent, Interpublic, has tried to pair the agency with Deutsch and Campbell Ewald in the past. Both ended in divorce.
Leikikh thinks lessons have been learned. "I think you need to have clarity of brand, clarity of purpose and leadership," he stresses. "We learned that those are the three key parts, and I think we've each figured out what's really important to us."
Instead of coming together because of one client (the partnership with Campbell Ewald was to service Cadillac), Leikikh says the merger is based on what is important to each agency: "Entrepreneurship, a sense of being a challenger and creativity at the core."
It's a formula that Miles Young, the worldwide chairman and chief executive at Ogilvy & Mather, approves of. "Mergers of this kind are notoriously difficult," he says. "They are entirely about culture and how well different cultures can come together."
The other driver for the partnership is to help the agencies work in a more integrated manner. It's not dissimilar to the models other shops are adopting, but Warren is quick to point out the "important distinction that it's not just about integration – it's integration to produce better creativity".
He adds: "A lot of agencies will say that they have these different services and offer all the services that we can through integrated communication plans. But I think the real challenge at the heart of 'bundling' is bringing all those people together to produce more creativity."
Both Warren and Leikikh believe the move is part of a wider industry shift that will see agencies no longer "defined by silos".
As Leikikh says: "The definition of the modern agency now and in the future is going to be your best cross-section of talent working on a client business model. In a couple of years, calling an agency a digital agency or a social agency or a mobile agency is going to sound as old school as calling an agency a TV agency or radio agency."
Mullen already employs "hyper-bundling", where the best people from each agency are asked to work on a brief. The merger will see this approach extended through a "global creative boutique" that taps into talent around the world to handle global, US or UK briefs.
Leikikh says: "It's hugely valuable to have a significant US client brief and distribute that to teams in India, Germany, Spain and the UK, and have an international group of world-class creatives take a shot at it."
As the agencies stand together to go after bigger accounts, it will be interesting to see if, this time, Lowe really has learnt from past failures.