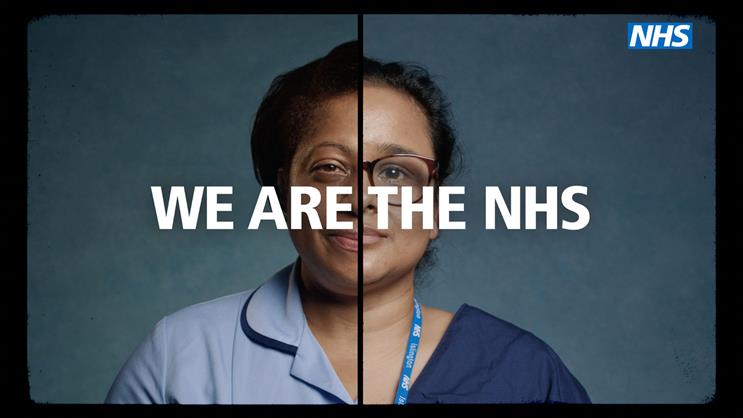 When Mediahub entered its nursing recruitment campaign for NHS England to the 2020 Thinkbox TV Planning Awards, run with Campaign, the agency knew it had something special to sing about.
Just how special and, ultimately, how important that work and the ongoing collaboration with its client would prove to be was something yet to be revealed.
The entry, "Saving the NHS one touchpoint at a time" went on to win the Thinkbox TV Planning Awards Grand Prix in July and subsequent campaigns have helped push nursing applications to UCAS up by a staggering 32% this year.
Campaign caught up with Sabina Usher, communications strategy director at Mediahub and Fran Griffin, senior strategist at Mediahub parent MullenLowe Group UK to talk through the most extraordinary 12 months.
Your brilliant, Grand Prix-winning work for NHS England did a fantastic job in attracting new recruits to nursing. How incredibly timely was that?
Fran Griffin: Pretty timely. At the time of our first brief in 2018 the NHS was already facing a staffing crisis, particularly for nurses - there were enough nursing vacancies to staff 20 full-size hospitals.
So we knew how important our campaigns were in protecting the future of the NHS workforce, but I don't think anyone could have predicted what was to come...
Sabina Usher: It took us a while of paranoid double-checking to believe the results of our 2019 campaign. We surpassed all our objectives with a 6% increase in nursing applications - 22% in our untested audience of career switchers, which was unbelievable.
But also, we know that we're building a legacy for years to come; our short term job is our long term job. We need to keep a steady stream of people coming in to train and sustain positive perceptions of working in the NHS - no easy feat.
Since entering the Thinkbox TV Planning Awards last year, what has been your major focus with your NHS England client? How did it change as 2020 unfolded?
SU: It is surreal to think it's been a year since we won our Grand Prix, celebrating from our respective bunkers. Coronavirus still seemed like a relatively new disruptive force. Twitter talked about it like a snow day. To use a wartime adage, "we thought it would be over by Christmas" - or in this case, Spring. We, like millions, had no idea of the horror before us.
FG: I'm pretty sure we said "see you next week" as we were sent home from the office.
SU: There was also a notion that in the context of a nation clapping on its doorsteps for nurses, our recruitment job might actually become easier… The NHS was on frontpages and rainbows adorned peoples windows - you can't buy that kind of coverage or love.
FG: But in reality, this was short lived. People who struggled with the self-belief that they could do the job were put-off by the "heroic" positioning of staff. Throw in harrowing tabloids, job market volatility, economic uncertainty, an education system in flux - and that's before we've even started on the roles themselves… This was our greatest challenge yet. More people, more roles, more urgency.
SU: So, our strategy became two-fold, pivoting around this need to drive confidence in the "we", by focusing on the future of the NHS beyond Covid, and the "me", driving individual self-belief that they could succeed in the face of the unknown.
Your TV schedule for the Grand Prix recruitment work was around proud, populist programming that dramatised the extraordinary. When Covid-19 hit, real life became more extraordinary than any show. How did that impact your media strategy?
FG: The insight behind our Grand Prix campaign was rooted in the need to almost democratise the extraordinary work that nurses do, to help our audiences see themselves in the role. The reality of 2020 meant that we needed to pivot from this role-specific strategy and first land the broader NHS employer brand story. There was just so much noise, with so much influence - people were forgetting what the NHS really stood for, outside of politics and PPE and crisis.
Our strategy became, We Are The NHS: Then, Now, Always - an emotive statement of purpose designed to create pride and deliver confidence at every touchpoint. This sense of "for the people", now and always - as stated in the NHS's first manifesto - was our north star. It offered a lens through which to focus our efforts, from first strategy to final delivery. Everything became a part of the same narrative.
SU: Media was then the canvas by which we brought these people-first stories to life. We launched with a hugely powerful and emotive employer brand film in 60's, supported with role specific 30's to tell the many important stories of NHS staff. As you say, that proud populist programming that had underpinned our approach the year before became even more prescient this year to amplify the drama and collectivism of the creative and tapping into shared sofa moments with peers, partners and parents; those with the ability to make or break an application, and vital to driving nation-building confidence.
These stories transcended across our channel mix, stepping into places and spaces where people leant into authentic stories; from weird and wonderful role showcases on Ladbible, Live Q&As with nurses on Facebook to over 976 digital CRM journeys, we packed an emotional punch.
What were the challenges involved in managing and navigating the NHS England business in such an exceptional and important year?
SU: All businesses have had to try and pivot this year, anticipating and planning in a vacuum. But obviously working with the Government during this time has had its own peculiar set of pressures. We're lucky that we have such a brilliant relationship with our client, who is our absolute partner in the quest for bold work and in navigating these choppy waters. But this truly has been a year with more twists and turns than an Agatha Christie "whodunit".
FG: We've been incredibly fortunate to have the NHS as one of our core accounts. Not only has it kept us insanely busy, we also get the opportunity to support the NHS through the crisis in any way we can - from recognising the monumental effort of the workforce to recruiting people into vaccination teams. It comes with obvious challenges - lots of stakeholders, lots of rebriefs, a few 24hr deadlines - but it has been an unexpectedly humbling experience. Plus our early results are looking extremely positive - just this week UCAS announced an enormous 32% increase in nursing degree applications for the year!
In general terms, how has the year since winning the Thinkbox TV Planning Award been for the agency as a whole?
SU: Wins begot wins, which was hugely fulfilling. But we haven't had time to enjoy them fully as planning quickly resumed. We had to throw the media rule book out the window, as from our bunkers we see the world inverted and lines blurred; what's individual is more collective, what's work is home, what's known is unknown; from the reignited love affair with linear to grumpy dads streaming on TikTok. We've also had to create new ways of staying stimulated and getting the creative juices flowing - but the energy and camaraderie of the team has been incredible. 
FG: One of the best things about our team is that Sabina, me and a whole team of others across strategy, creative, media and digital sit but metres away from each other in normal times. But if Covid has taught us anything it is the art of the possible and that truly, it only works if it all works. Luckily we have Whatsapp. And like each other enough to spend most of the day on the phone.
How are you approaching 2021?
SU: With a kind of contentment that looking to your past can often give you lessons for the future (whilst accepting we have no control over anything). We know we're going to have even more roles to fill and audiences to inspire, but mostly we're just trying to avoid the campaign equivalent of the dodgy fourth album...
FG: Totally. It's going to be another busy year, but I think we have a lot to look forward to. We haven't even had a chance to celebrate the Grand Prix win yet! I'm definitely not the hugging type, but the prospect of seeing the team for a pint (or five) is extremely exciting.
SU: CHEERS TO THAT (I am the hugging type - can we go for a pint now?!)