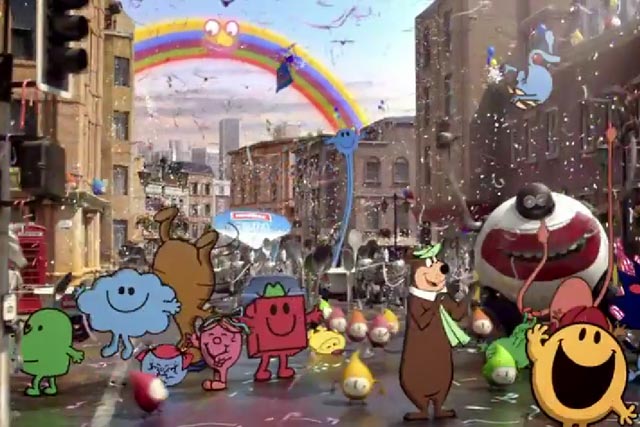 Created by TBWA\London, the 90-second spot begins with 'Knight Rider' car Kitt getting a parking ticket from a traffic warden.
A parked Muller van picks up the warden, swallows him and then spits him out, turning him into Yogi Bear.
A Müller Corner yoghurt on a horse cart then rides into the street, squirting passing office workers and transforming them into various colourful animated TV characters.
The strapline of the ad reads; "Wünderful Stuff." The ad will debut during Saturday's first 'X Factor' live show on ITV1. It will be supported by activity across video-on-demand, outdoor, online, print, cinema, social media and point-of-sale.
The executive creative director on the ad was Andre Laurentino who worked with creative directors Mike Nicholson and Paul Pateman, who were copywriter and art director respectively. The ad was directed by Antoine Bardou-Jacquet.
The media agency for Muller is MediaCom.
Muller Dairy consolidated its £25 million advertising account into TBWA\London in February, after a winner-takes-all pitch involving its other roster agency, VCCP.
Also being shown during 'The X Factor' tomorrow will be Yeo Valley's follow-up to last year's rapping farmer ad. The brand has launched a one-off, two-minute music video featuring a farming-inspired boy band called The Churned, singing a ballad-style track titled 'Forever'.
Follow @SaraKimberley on Twitter