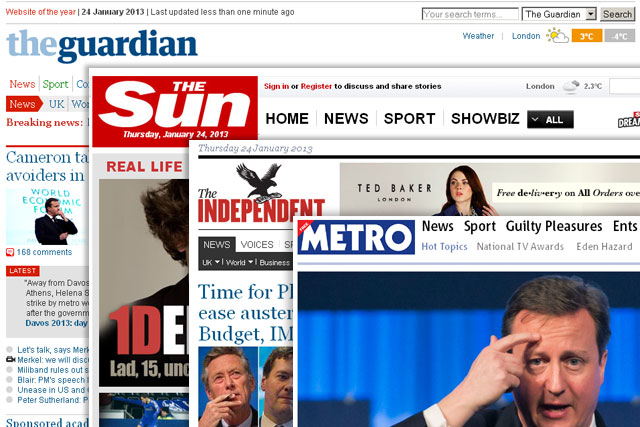 The number of unique browsers for The Independent was up 18.9% month on month from 17.8 million to 21,251,877. The amount of traffic being driven by its comments section is said to have doubled since the Independent Voices site was launched last September.
Zach Leonard, managing director of digital at The Independent, said: "This is great growth for The Independent on the back of strong content and improvements to our basic infrastructure. We are hopeful will can sustain the momentum."
December 2012 also proved to be a strong month for Mirror Group Digital, the website network that includes Mirror.co.uk, 3am.co.uk and MirrorFootball.co.uk, where monthly browsers were up 11.88% to 18,488,370. Daily unique browsers rose 7.8% to 859,318.
News International's website for its tabloid newspaper, Sun.co.uk, reported monthly users up 1.45% to 24,635,117 and daily browsers 0.13% to 1,562,470.
Elsewhere, there were slight falls in traffic for Guardian.co.uk, Telegraph.co.uk, and Mail Online.
Mail Online remains the market leader, up 35% year on year to 7,038,933, though it was down 0.9% on November's figures.
Monthly browsers to the site for Daily Mail & General Trust's free, city-centric newspaper, Metro, plummeted by a third following its revamp at the start of December.
Monthly traffic fell 32.24% to 5,227,151, while its daily uniques slumped 33.69% to 211,537 in December. The newspaper is confident traffic will stabilise on the site, which has been redesigned with consumers' mobile devices top of mind.
ABC Multi-platform: December 2012 mth-on-mth comparison

Dec 2012

Monthly % change
Daily ave
Total mthly
Daily ave

Total mthly
Mail Online

7,038,933

114,037,081

-0.99

1.67

guardian.co.uk
3,681,821
68,612,729
-7.05
-2.77
The Independent
970,899
21,251,877

13.78
18.90
Mirror Group Digital
859,318
18,488,370
7.80
11.88
The Sun
1,562,470
24,635,117
0.13
1.45
Telegraph
2,810,393
56,624,847
-5.65
-1.67
Metro

211,537
5,227,151

-33.69

-32.24

Follow @DurraniMix