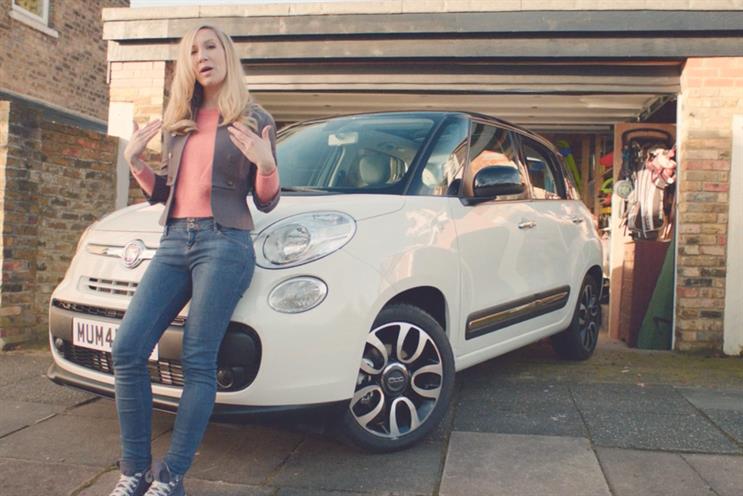 Don't you just love the moment in car commercials when the driver curls up one side of their lips to create a look of staggering smugness? This normally happens after the hateful clones have completed a simple manoeuvre and indicates that everything in their world is perfect or, in other words, perfectly unreal.
The intention
Our aim from day one was to keep the film (with apologies for the street lingo) real. After all, being a mother may be very challenging, but isn't it also rather wonderful? Why would we want to cloak it with a phoney golden glow? For our audience – freethinking mums with independent ideas – that would just come across as patronising.
And then there is the car itself. The Fiat 500L is not as cute as its little brother, that's a plain fact, but it remains a good-looking car and part of a lively, cheeky, confident family. It doesn't need dressing up to puff out its chest.
The idea
When the creatives came to me with the corruscatingly true mum rap idea, it contained the words "episiotomy stitches". What could possibly go wrong…?
The rival
…other than discovering that another car brand had already done the idea, rapping mum and all. Once everyone concerned had said "life's a bitch" three times, we took a closer look at Toyota's "swagger wagon" film. "I'm an awesome parent," it said, and: "I'm the world's best nurse when my kids get sick." It became obvious that the film was about mum as a superhero, aided and abetted by the car. Very different from the real story we were telling: "Sleep-deprived and under house arrest, think I'd sell both kidneys just to get some rest."
So we discussed the issue with the client and agreed this was a case of Kanye West versus Notorious BIG: same genre, different idea.
The writing
We set out to be real so, if we were going to be accurate, we thought it prudent to be funny. We began by gleaning insights from research groups with mums and began to piece together a script that felt true and real. The production company, Rubber Republic, made a huge contribution to honing the words and making them funnier. In their spare time, they even composed the music.
The client
This was a tough idea for any client to buy. The words had to be true – sometimes almost brutally so. They constantly evolved (as rhymes do) and, because the film was a viral, it simply couldn't feature too much car. If it did, it would have become an ad and, consequently, unwelcome online.
But Fiat went with it, trusted us to get it right and, without that, the film would have been diluted out of meaningful existence.
The shoot
Shooting a three-minute film on a low budget in one day, with three small children, is something that no good doctor should recommend. It either instils wild, flailing panic or steely-eyed determination. From the moment the director, Matt Golding, donned a Ronald McDonald wig to amuse the children, it was clear everything would be OK.
The worst moment came halfway through shooting the car interior. We noticed that there was a Nissan Micra parked on the other side of the road that was clearly visible. Door-to-door enquiries were made to find the owner, but nobody was prepared to admit it was theirs, so it had to stay.
Suddenly, depth of field and focus became a big issue for the cameraman. That headache never went away, and bets were placed that the commenters on YouTube would rip us to shreds. In the end, that didn't happen.
The mother in the ad was Rachel Donovan. Boy, did we get lucky with her because, much as I would like to pretend the strength of the idea guaranteed success, that is clearly not true. Rachel is usually a Shakespearean actor and (as you will know) performing the Bard's work is acknowledged as being the best training for a spot of rapping. She was a natural, understood exactly what we were after, and I hope and expect that her name will be up in lights one day.
The results
With the help of adroit seeding by Maxus and Rubber Republic, "the motherhood" has had more than four million hits worldwide, a watch-to-share ratio of 1:24, with more than 5,000 Fiat 500L configurations being completed. That is almost too many, bearing in mind that this was a pre-launch film.
Particularly gratifying was a review in The Guardian. It described the film as "an assault on the familiar, an escape from the relentlessly bloody upscale tone of the average car ad", and added that it appeals to women "as we are now, with all our flaws and susceptibilities and, right now, the Fiat 500L mum is right for us in her photogenically haggard way. There is something aspirational to her. She might not have it all, but she does it all, and that's a badge of honour."
By the way, we didn't forget about the dads, so have a look at the follow-up film, "the fatherhood".

Nick Hastings is the founder and creative director of Krow