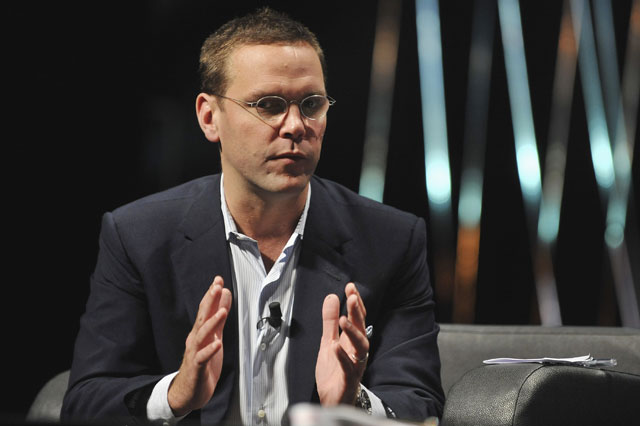 Home to a wide portfolio of media, including four of the UK's largest newspapers, Fox TV networks and film studios, the Wall Street Journal and book publisher HarperCollins, the group generated $24bn in media revenue, according to ZenithOptimedia's analysis of 2009/2010 financial data.

Speaking at the Cannes International Festival of Creativity Debate in the week News Corp moved a step closer to approval of its bid for British Sky Broadcasting Group (BSKYB), Murdoch pointedly set the foundations for further expansion.
Asked by moderator Sir Martin Sorrell whether there was a risk of losing creativity the larger a business gets, Murdoch said: "The real issue becomes, that as the competitive set shifts, we're not big enough.
"When you actually look at the competitive set in an all-media marketplace, when you have monolithic brands, from Google and Apple etc, to big former PTT's Telefonica, Deutsche Telecom, to Verizon, to all the characters on a playing field on a terrain that has essentially collapsed, there are much, much bigger beasts than a News Corporation, or Time Warner, or whatever it is.
"And that is a real challenge for us going forward, how do we make sure that we can compete at scale globally, as these new players do, and still be quick and creative and risk-taking. And I think it's something that's very much unresolved."
Murdoch's comments come a day after Ofcom's review of proposed undertakings were handed over to the UK government relating to News Corp's bid to buy the 60.9% of BSkyB it does not already own.
Despite vociferous and united opposition from media rivals who say full ownership of the UK's biggest pay-TV operator would give Murdoch too much power, Hunt is widely expected to announce the deal will go through next week.
Murdoch said "a big factor" in News Corp's future growth prospects, which currently has a market cap around $45bn, depend on "how this thing plays out over the next five to 10 years".
Citing the six Sky businesses around the world, of which the UK is the largest, Murdoch said their "national nature" doesn't work well with competing on a global basis with "monolith brands like Google".
The 37 year old COO, who is also executive chairman of News International and non-executive chairman of BSkyB, also noted how the new media landscape was no longer as straight-forward as having rival companies vying against one another.
"This is a complex business environment," he said. "You have to be mature enough to say you're going to have deep partnerships with companies that you're [also] going to be trying to absolutely throttle [in another sector] over here."

Murdoch's advice, as media owners of the Daily Mail, The Guardian, The Daily Telegraph, the BBC and BT await to hear if their objections to News Corp's acquisition of BSkyB will be listened to, is: "You have to remember all the time that you're playing the ball, not the man."