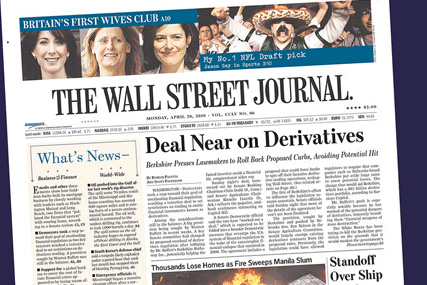 The 12-page metro section is being launched today with some advertisers reportedly being offered pages in the section for as little as $19,000, according to Reuters, which is a major discount on the $80,000 to $90,000 that advertisers can be charged for full page ads.

As an additional attraction to advertisers, News Corporation is offering full-page ads in its tabloid newspaper the New York Post as part of the deal, which has led some commentators to reflect that Murdoch is simply cannibalising the Post's ad revenues.

Murdoch hopes to lure advertisers away from The New York Times and win them over to becoming regular advertisers in the new section, which is being unveiled today by Wall Street Journal managing editor Robert Thomson.

The WSJ metro section will include local news from the five boroughs as well as arts and sport coverage and will have a circulation of around 240,000.

One New York Times advertiser, the luxury retailer Bergdorf Goodman, is one of those taking space in the metro section. A spokeswoman for the brand said that it was "going to try it and see", but gave no indication as to whether this would affect its advertising in the New York Times.

Scott Heekin-Canedy, president of the New York Times Company, told analysts last week that the paper was feeling pressure in the New York ad market, but didn't believe it had so far had any effect on business.

He also stressed that the New York Times would not get into a price war with the WSJ and believed that advertisers would not desert the paper.

Several agency sources said that the addition of the New York section did not impact their media schedules greatly as most of their existing clients looked to the WSJ for national rather than metropolitan reach.

The New York Times has responded in part with plans to launch regional editions across the US, starting with five before growing it to 15, which could involve deals with other US regional newspapers. These build on local editions it already has in San Francisco and Chicago.

The timing of the WSJ's assault on the New York Times comes as the battlefield is increasingly seen online. The New York Times will begin charging for its website in January and has announced plans for a paid for Apple iPad app.