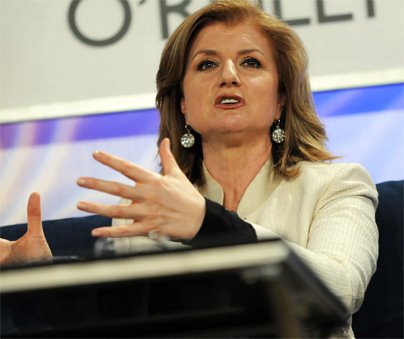 Speaking at a conference in Washington yesterday, where the News Corporation chairman had hours before urged publishers to 'stop giving their content away for free', the woman behind one of the largest aggregator sites in the world hit back at his "ridiculous notion".

"So now sites that aggregate the news have become, in the words of Rupert Murdoch and his team, 'parasites', 'content kleptomaniacs,' 'vampires,' 'tech tapeworms in the intestines of the Internets', and, of course, thieves who 'steal all our copyright,'" said Huffington.

"In most industries, if your customers were leaving in droves, you would try to figure out what to do to get them back. Not in the media. They'd rather accuse aggregators of stealing their content."

Huffington went on to condemn Murdoch's bellicose war against new media sites as being fundamentally flawed, accusing the 78-year-old of confusing aggregation with wholesale misappropriation.

"Wholesale misappropriation is against the law - and he has legal redress against that already, she said. Aggregation, on the other hand, within the fair use exceptions to copyright law is part of the web's DNA. Period."

The former political satirist stressed that at the Huffington Post, which she co-founded in May 2005, aggregating links sit alongside its own original content, which includes more than 250 blog posts a day.

She said most sites understand the value of such links and the way the link economy operates, and claimed the "HuffPost" gets "hundreds of requests from news outlets" keen to feature on the site.

"They understand that the web is not a zero-sum game and that consumers love the freedom to be able to follow where their interests - and the offshoots of a story - take them," she said.

Ever since the site's launch, Huffington has been a vocal advocate of a new hybrid model for journalism, with traditional journalism embracing the new opportunities presented by digital media.

She has pointedly tried to avoid becoming embroiled in an 'us versus them' debate, believing many traditional media companies were already adapting to the new realities.

However, since quintessential press baron Murdoch announced plans to introduce paywalls around his global newspaper sites earlier this summer, including those of The Times and The Sun, Huffington has been compelled to defend herself.

"Playing nice has increasingly become a one-way street," she said. "Suddenly the air is filled with shrill, nonsensical, and misplaced verbal assaults on those in the new media."

She dismissed Murdoch's posturing around Google's role in disseminated "expensive journalism" for free, by noting that any site can shut down the indexing of its content by the search engine any time it wants with a simple "disallow" in its robots.txt file.

"But be careful what you wish for," she warned. "Because as soon as you do that, and start denying your content to other sites that aggregate and link back to the original source, you stand to lose a large part of your traffic overnight."

Huffington also echoed the views of many paywall dissenters by questioning how any protectionist publisher intended to stop others writing about the news they had decided to ring-fence?

"You'd still get dozens and dozens of links to other sources -- including many of the biggest news sites -- writing about the story, riffing on it, quoting from it, and commenting on the key facts in it," she said.

"So what are you going to do, try to make the case that no one should be able to talk about or write about or comment on or report on the stories you make them pay for? It's a ridiculous notion."

The 59-year old also accused some of the biggest critics of publishers of "working both sides of the street", highlighting News Corp's own forays into aggregating content, including the activities of its much lauded subscription site Wall Street Journal.

"[It] has a tech section that's nothing more than a parasite -- uh, I mean, aggregator -- of outside content," she mused.

"FoxNews.com has a Politics Buzztracker that bloodsucks -- uh, I mean aggregates and links to - stories from a variety of different sources, including the NY Times, the Washington Post, MSNBC and others."

Huffington said many traditional media companies had been lulled by a lack of competition and years of pre-tax profits of 20%, and accused them of putting cash flow above journalism and badly misreading the web.

"The focus was on consolidation, cost-cutting, and pleasing Wall Street -- not modernisation and pleasing their readers," she said.

"They were asleep at the wheel, missed the writing on the wall, let the train leave the station, let the ship sail - pick your metaphor...

"And now they want to call timeout, ask for a do-over, start changing the rules, lobby the government to bail them out, and attack the new media for being... well, new. And different. And transformational.

"Suddenly it's all about thievery and parasites and intestines… Get real, you guys. The world has changed."