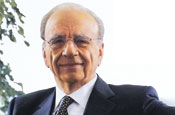 The News Corp chief executive and chairman could even join Microsoft in its bid for Yahoo, according to the New York Times.
After Microsoft made a bid for Yahoo, Murdoch met with Yahoo chief executive Jerry Yang. But reports suggest that News Corp is now in talks with Microsoft about collaborating on any potential takeover of Yahoo.
Meanwhile, Yahoo, determined to retain its independence, or at least fend off the Microsoft approach, has partnered with Google in a small trial of the search giant's technologies.
The trial will form part of Yahoo's decision on whether to partner with Google for search advertising, a move search practitioners in the UK vehemently oppose. They view a Microsoft-Yahoo alliance as a welcome competitor to Google and don't want to see Google extend its dominance of the search market.
Microsoft was quick to respond to the deal. It said: "Any definitive agreement between Yahoo and Google would consolidate over 90% of the search advertising market in Google's hands. This would make the market far less competitive, in sharp contrast to our own proposal to acquire Yahoo," Microsoft said.
"We will assess closely all of our options. Our proposal remains the only alternative put forward that offers Yahoo! shareholders full and fair value for their shares."