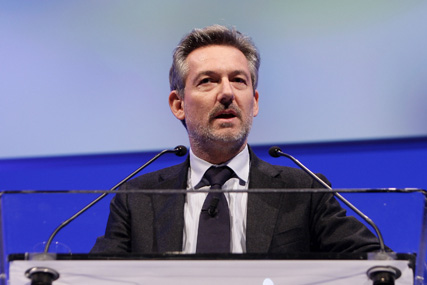 Tom Mockridge, according to some sources in beleaguered Fortress Wapping, did not make the most impressive of starts. The classic mark of a manager slightly out of his depth is a tendency to enter a difficult situation determined (in finest NCO fashion) to "put a bit of stick about". And, of course, Mockridge did exactly that, telling one meeting of journalists that the company's problems stemmed as much from laziness as from corruption.
Ah, yes, laziness. That dark matter (pervasive, pernicious, yet all but invisible) of the business universe. And, of course, you can sort of see what he's getting at. He's trying to invoke the sort of laziness, presumably, that manifests itself in moral laxity rather than inertness.
But still. At this stage, News International desperately needs leadership, not a recipe for internal squabbling.
Mockridge was parachuted in (the implicit special forces metaphor here being, for once, particularly appropriate) from Sky Italia, where he was the chief executive, to succeed the departed Rebekah Brooks as the chief executive of News International - and, of course, the media world has been agog to discover what he's like, what his track record says about him and, indeed, to second-guess the brief he has been given.
They also wonder, to put it rather brutally, how long he's likely to be here. Following the sort of implosion that News International has experienced (and is still experiencing), it would only be natural if the Murdoch clan were to put someone in place principally to maintain a holding pattern - and Mockridge certainly qualifies as that most noble of corporate metonymy, the "safe pair of hands".
You clearly risk making a fool of yourself if you listen to anyone prepared to imply, as we did above, that he's in any way out of his depth, even in the apocalyptic "end of days" atmosphere that pervades News International's senior management bunker over at Wapping.
After all, as the company is more than happy to point out, Mockridge's Italian job was in some senses bigger than this one because Sky Italia is a bigger company than News International - in fact, almost double the size in terms of profits and staff numbers.
It was also a role that called for a cool head in the public spotlight - because it brought him into regular conflict with one of Europe's highest-profile political leaders. And it's a shame that we have to diminish the impact of this notion slightly by pointing out that the leader in question was none other than Silvio Berlusconi, the 74-year-old Italian prime minister, who's currently facing prosecution for having allegedly paid for sex with an underage prostitute called Ruby as well as tax fraud.
Since its launch in 2003 (Mockridge was in charge from day one), Sky Italia has had to fight Berlusconi every inch of the way because the Italian premier is, of course, the founder and guiding light of Sky's main Italian commercial television rival, Mediaset - and he has, not to put too fine a point upon it (and quite by accident, we assume), occasionally made life slightly difficult for Sky.
And, yet, Sky Italia, despite these odds, has prospered and is now in five million homes - a national penetration of around 20 per cent. (Quite by-the-by, and with one's sceptical hat on, one is tempted to wonder what Mockridge really knows about shop-floor laziness, having worked for much of the last decade in the Italian TV industry.)
Mockridge started his career as a jack-of-all-trades journalist (though, presumably, not the lazy type) in rural New Zealand (this is not, apparently, a tautology) in the 70s. As he allegedly wore flares, sported a moustache and drove a Ford Zephyr from village to village in search of stories, this part of his life was clearly directed by a Kiwi version of the Coen brothers and scripted by Murray from Flight Of The Conchords.
But he soon escaped to Australia, where he eventually became the economics editor of The Sydney Morning Herald, and then a spin doctor to the senior Australian Labour Party politician Paul Keating. Next, he was headhunted by Rupert Murdoch, joining News Limited in Australia in 1991, becoming the assistant chief executive (more important than it sounds).
Mockridge made steady progress within the Murdoch empire, being appointed the chief executive of Foxtel before being posted to Hong Kong in 1996, where he was to work with James Murdoch at the group's Asian satellite television business, Star. And then, following a spell back in New Zealand as the boss of News Corp's Independent Newspapers, he was packed off to Italy where he finally met his match, marrying an Italian lady and producing a brace of bambini.
Over the years, Mockridge has earned a cluster of the corporate world's most positive adjectives: he's been described variously as intensely able, highly effective and unflappable. One profile rather embarrassingly lets slip that he reads books - though not, we must assume, to the point of introspection. (This is not widely recognised as a corporate virtue.)
He will undoubtedly be expected to sack some fairly senior lazy journalists if for no other reason than, in the finest of disciplinarian traditions, "pour encourager les autres". He is certainly not expected to wade into the sort of public political controversy that was his stock-in-trade in Italy. At this stage in proceedings, the last thing News Corp needs is a new head poking above the parapet.
Over the short to medium term, the fondest hope of those in the advertising industry is that Mockridge can help re-establish News International's credibility as a publisher of some of Britain's best-loved newspapers. And they trust that this, in itself, will lead to the prospect of a more "normalised" business environment.
But they're not expecting him to outline the company's recalibrated commercial vision in any explicit manner - or, indeed, make himself known to them at all. As one senior media agency source puts it: "I don't think he'll get terribly involved in the ad market, at least as far as clients and agencies are concerned - after all, Rebekah didn't."