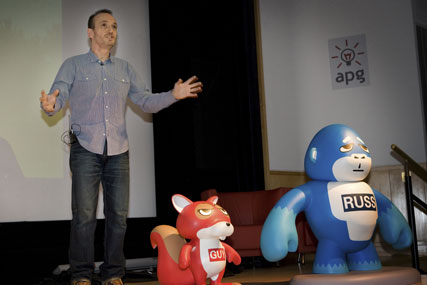 Last week at The British Library, the Account Planning Group and Campaign found out. They invited the winners from the first four Battles of Big Thinking to compete in a Clash of the Titans.
The event, run jointly by the APG and Campaign, and sponsored by AOL, featured 19 speakers who delivered 15-minute presentations. Instead of a narrow theme, speakers were asked to wow the audience with their big thinking.
Speakers fought it out in front of an audience of more than 180 planners and marketers and the winners were decided by an audience vote.
Seven mini heats led to a final stand-off between the overall winners from 2006 and 2009: Russell Davies, the head of planning at Ogilvy & Mather versus Guy Murphy, JWT's global head of planning.
For his combination of style, substance and just a touch of theatre (inviting delegates to throw juggling balls at animal sculptures representing himself and Davies), Murphy was voted a worthy winner of winners.
Other session winners were James Mitchell and Peter Sells from Bartle Bogle Hegarty, David Hackworthy from The Red Brick Road, Ivan Pollard from Naked, Derek Day and Helen Edwards from Passionbrand and Les Binet from DDB Matrix.
The winning sessions can be purchased at http://www.bobtvideos.com.