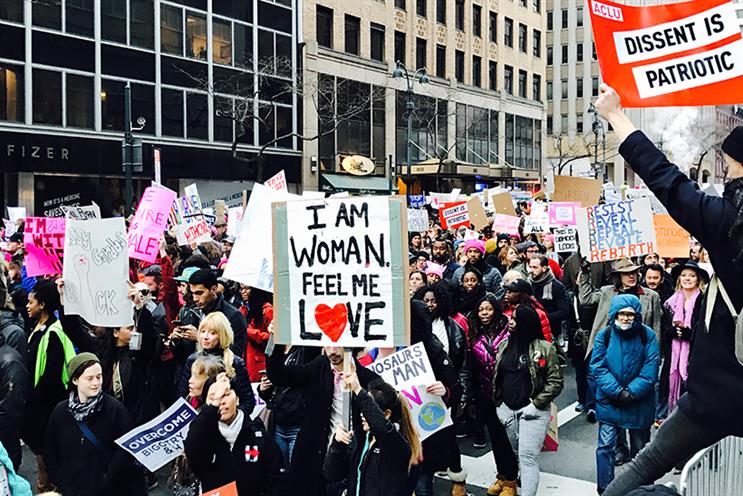 "I am not ovary reacting." "Let's discuss the elephant in the womb." "Melania, blink twice if you need help." The Women's March had some of the most creative signs any political rally could hope for.
Last Saturday, more than 3 million people in cities across the country stood up for women's rights and used the occasion to protest Donald Trump a day after his presidential inauguration. At the end of the march, as a final symbol of protest, many marchers left their signs in front of the White House and many Trump-owned buildings.
Museums, universities and libraries across the country, and overseas, are now collecting these signs to document what experts are calling the largest demonstration in the US history. And they continue to crowdsource for more. On Twitter, Newberry Library, USC, Temple University, Denver Public Library and the University of Iowa have asked for any signs that people can donate.
Pease consider donating your signs, flyers, buttons, hats from LA Womens March to us. We will create an archive. Contact ullmann@usc.edu

— USCSpeCol (@USCSpeCol) January 23, 2017
PHOTO: Cleverness #phillywomenmarch @TempleUniv collecting signs for the archives pic.twitter.com/ZxPHnaBUpY

— Bob Schmidt (@BobSchmidt7) January 21, 2017
Did you attend the #womensmarch yesterday? Our Western history archivists want to catalog your photos, memories https://t.co/6XrWHQtGxC

— DenverPublicLibrary (@denverlibrary) January 22, 2017
Iowa Women's Archives collecting signs, flyers, pictures, written accounts, etc. from #womensmarch #wmia https://t.co/P0vSUEWelA
— Jennifer Bradshaw (@Jennywren129)
January 23, 2017
The Newberry Library in Chicago plans on making the posters it has collected viewable in its reading rooms and hopes to use the materials in future exhibits. An effort is also underway to make digital images available to the public, according to Martha Briggs, curator of modern manuscripts at the Newberry Library.
"We wanted to make sure we were preserving the raw material from what is certainly going to be an evolving landscape of social action," said Briggs in a statement. "We also wanted to encourage everyone to think of their protest signs as worth saving for future generations interested in looking back on how citizens of our time framed pressing political issues and organized themselves for the causes they cared about."
Marching this weekend? We're collecting #ephemera as part of a living archive of modern protest! DM us for details. #womensmarch pic.twitter.com/xURxTsnz6d

— Newberry Library (@NewberryLibrary) January 20, 2017
Last Friday and Saturday, The Smithsonian National Museum of American History was also hunting for signs along the National Mall in Washington D.C., but does not need any more donations. The posters collected will join others from historic marches of the nation in the exhibit "The American Presidency: A Glorious Burden."
"The Museum collects from contemporary events because many of these materials are ephemeral and if not collected immediately are lost to the historical record," wrote The Smithsonian National Museum of American History in a statement.
@boydwalker Our political history curatorial team was out on the National Mall on both Friday and Saturday.

— amhistorymuseum (@amhistorymuseum) January 22, 2017
There are also museums outside the US doing the same, including the Bishopsgate Gate Institute in London and the Art Gallery of Guelph in Canada.
Have placards/photos fr #WomensMarch London? We're collecting them @BishopsgateInst Protest Archive. Library@bishopsgate.org.uk or tweet us

— Nicky Hilton (@NickyHilton1) January 23, 2017
Participated in #WomensMarch? The Art Gallery of Guelph is collecting signs & pins! Drop off Tues-Sun 12-5pm. Please share... #Guelph

— AGG (@AGGuelph) January 23, 2017