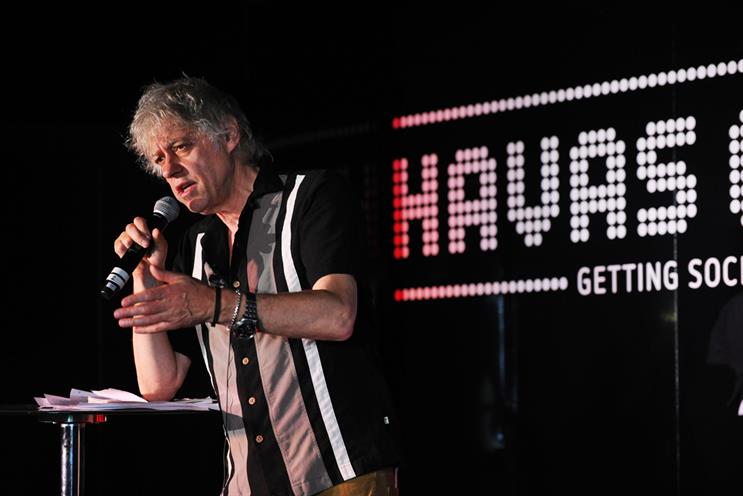 In the past decade, the digital revolution has ripped apart the business models and incomes of those in the music business. The speed at which analogue pounds turned into digital pence, piracy became endemic and new competitors and distribution models emerged transformed the landscape.
At Cannes, it was hard to escape the warnings from some music legends. And it came as no surprise that one of the strongest contenders for most outspoken guest of the week was Bob Geldof. Speaking to a packed Havas Café gathering, the Live Aid rabble-rouser attacked Google ("Larry and David can go on about building a brave new world; I want no part of it"), the banks and financial services ("they have raped us"), governments ("they are guilty of treason") and much more besides.
And while Geldof admitted that he would never use the language of Havas' "Meaningful Brands" positioning – "it's advertising bollocks" – he did say the chief executive, David Jones, had tapped into the underlying "revolutionary" situation societies are now dealing with.
"I think your man is on to something here," he said. "If you're an advertising group, you need to very quickly try to understand what's going on, or else you're out of business."
Arriving in the French Riviera on the back of a set at the Isle of Wight Festival, a croaky Geldof said Apple's iTunes had "destroyed my business overnight". He added: "There are 600,000 would-be rock stars in the UK. They would make from downloads this year, on average, $120. That's it. They would make, as an annual income, £2,300. That's it."
A few hundred metres along La Croisette, another trailblazer, Lou Reed, called his pay from digital downloads "a pittance", saying Apple pays him "about a 16th of a penny". The Velvet Underground star attacked the industry for not valuing the fruit of its labours and accused "the likes of Spotify" for ensuring "starving artists stay starving".
At Cannes as a guest of Grey, Reed did have a positive message about the role brand partnerships now play. "The advertising people actually pay you for what you do and people actually like the ads, which used to be thought of as selling out," he said.
Such optimism was more than Sean Combs, aka P Diddy, could muster. In town to promote his new cable music channel Revolt TV and to reveal a distribution deal with Time Warner (announced via Twitter), he told delegates: "I hate watching TV commercials, just like everyone else… Millennials don't like watching commercials – and they don't like BS. Brands need to give them something that touches them emotionally."
This touched on a key theme of Cannes around the significance of storytelling for brands. Andrew Bosworth, the director of engineering at Facebook, advised brands to use social media to make their story participatory. He noted: "People have more choices, so you need to connect with them."
It's hard to argue with that. But, then, the need for brands to entertain and play with emotions has formed the bedrock of great ads since the 50s and Bill Bernbach. It's just that today's ads have better soundtracks.