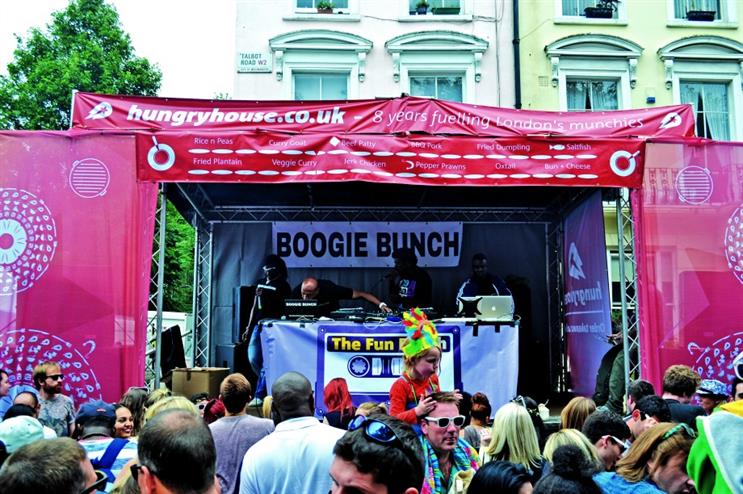 Anyone who has ever pulled on a pair of Hunters will know that the peripheries of festival grounds are now a mosh pit of brands 'surprising and delighting' (read: jostling and cajoling) their young, captive consumers. The setting for brand engagement is a perfect one: guests are happy, carefree and - let's be honest - drunk, and only too willing to oblige when offered a free drink in exchange for an uploaded selfie.
Yet festival activation is not without its pitfalls. There may be a huge live audience, but it is generally comprised of one (young) demographic, and rival brands are made to compete shoulder to shoulder within the T&Cs set down by the festival organiser. The question of efficacy must also be asked: in an oversaturated, noisy field, can a brand truly connect with everyone it engages?
As such, many big names are looking outside the festival season to connect with a music-loving audience. For O2, a telecoms brand that also claims the name of one of the biggest music venues in the world, the medium of music is so vital that it employs a head of music sponsorship, Paul Shulver. "As a brand, we are just as passionate about music as our customers are," he explains.
"We're proud to have made a long-term investment, not only to benefit fans but also to demonstrate support for venues, promoters and artistes. We've taken time to understand the intricacies of the music industry and carve out a respected position for O2, one where we can add real value to the parties involved. Very few brands have had a similar long-term involvement in music like we have."
A sponsorship of Wireless festival led to sponsorship of the Millennium Dome, which in turn led to Priority Tickets, early-bird entry available only to O2's customers. A naming-rights deal with Live Nation and Academy Music Group meant the brand was able to offer this perk outside of London, and O2 Academy venues can now be found in nine cities across the UK.
Vauxhall is another brand supporting the music scene through intimate venues, albeit on a smaller, campaign-led scale. "With the launch of the new Vivaro, we wanted a partnership that got the van noticed," recalls Kate Oyler, manager, brand communications. "Independent Venue Week offered us an exciting proposition."
She explains: "Rather than 'slapping' a Vauxhall badge across the activity, we offer bands something they really benefit from - use of a van while they tour."
For Vauxhall's return to the activity this year, Vivaro on Tour is supporting three bands: Life, Phobophobes and Telegram. Vauxhall will follow their journeys to provide exclusive backstage access, capturing on-tour shenanigans and offering tickets to gigs. "In its simplest form it makes perfect sense: a Brit-built vehicle supporting Brit-built bands," says Oyler.
Another brand playing on its British musical connections, although American itself, is Mastercard. The financier has supported the Brit Awards for 18 years and activates the partnership through its Priceless Surprises initiative, which aims to pleasantly shock consumers with appearances from well-known personalities. This year saw Ellie Goulding and Mark Ronson come on board for the campaign; videos of the surprises were amplified on digital and via the idents shown throughout the awards on ITV. Guests on the night could also 'pose for the paps' on the dedicated Mastercard red carpet.
"We try to give cardholders Priceless experiences throughout the year, and what better forum to facilitate this than giving them access to people they love, listen to and associate with," says Shaun Springer, Mastercard's head of brand, sponsorship, digital and music marketing. "The Brits is often unpredictable and exciting and therefore represents a great match for our Priceless brand."
Mastercard is rarely, if ever, seen on a festival field. Why is that? "Working with artistes to bring cardholders these experiences can't be replicated on the festival circuit," explains Springer. "The festival scene in the UK is incredible, but it's not currently a space where we believe we can deliver the surprises alongside the musicians."
For O2, avoiding festivals proves how music is key to the brand all year round. Shulver says: "As great as festivals are, they take place over just one weekend of the year. With our network of UK venues, not only are we supporting the smaller venues, we are also able to respond to the needs of O2 customers and music fans in their local area.
"We made a decision early on that music should be a core part of the O2 brand, but it was also essential that we were able to offer music fans and customers all across the country tangible and 'always on' benefits related to their passion points."
Oyler agrees: "It's absolutely imperative for Vauxhall to have live activity taking place all year round. The music scene never sleeps and neither can we.
Unless you are a headline sponsor, it's hard for a brand to get PR cut-through during festival season, especially if you don't have a long association or tried-and-tested record with music."
Brands dominating the alternative festival scene
Smirnoff: London's Winter Pride
Anna Sablovscaia, Smirnoff brand manager, Europe: "We're proud to have supported LGBT events for more than 16 years, but Winter Pride will always be extra special for us because we were there from the start. We don't view Smirnoff as a sponsor, but a true partner that sought to help take the Pride calendar into the winter months and create moments where people can truly be themselves and have fun."
Hungryhouse: Notting Hill Carnival
Beth James, brand manager at Hungryhouse: "We have sponsored the Fun Bunch sound system at Notting Hill Carnival for the past two years, who are fantastic at engaging the crowd and promoting our brand while ensuring everyone has the best time. Our image is built on authentic food from local takeaways so aligning with a grass-roots event lets us participate in the community in a fun way."
Three: Snowbombing
Pippa Whybourne, lead communications manager at Three: "The festival (top) is completely unique and always puts customer experience first, something we also take very seriously at Three. We hope our experiential areas will be just as popular as last year and that festival-goers enjoy the freedom of using their phone, just as they would at home, to document their very own festival experience."
Comment below to let us know what you think.
For more in-depth and print-only features, showcases and interviews with world-leading brands, don't miss the next issue of Event magazine by subscribing here.