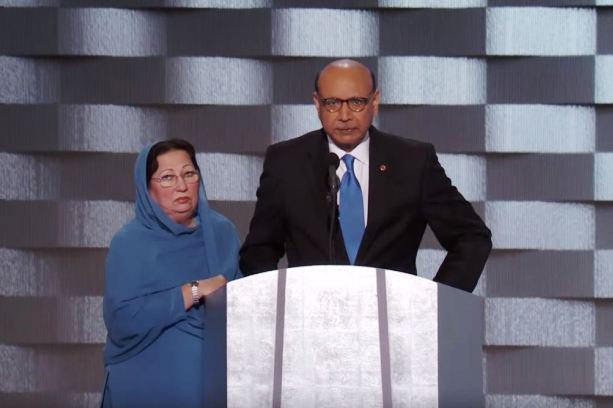 NEW YORK: Muslim women in the U.S. are responding to Republican presidential nominee Donald Trump, and sticking up for gold star mother Ghazala Khan, with the hashtag #CanYouHearUsNow.
Last Thursday night, the mother of slain U.S. Army Capt. Humayun Khan was silent while her husband, Khizr Khan, delivered a dramatic speech at the Democratic National Convention attacking Trump's proposed Muslim immigration ban. Trump implied in an interview with ABC News' George Stephanopoulos that Ghazala Khan didn't say anything because she wasn't "allowed" to speak.
One day later, Ghazala Khan wrote an op-ed for The Washington Post refuting Trump's assumption that she wasn't permitted to speak, but rather she was too grief-stricken about her son's death to talk about him at the convention.
The #CanYouHearUsNow campaign began in a network of Muslim activists across the country and was picked up by Muslim organizations and activists nationwide. They designated a window from 10 a.m. to 1 p.m. EST during which Muslim women would take to Twitter with their stories. By 1 p.m., the hashtag was trending and had been featured in more than 11,000 tweets.
"It started among two different groups," said Rabiah Ahmed, director of media and public affairs at the Muslim Public Affairs Council. "One was a loose network of American Muslim women activists who communicate via WhatsApp groups and things like that. While that was happening, another group that consists of American Muslim leaders was also discussing ways that we could spread the fact that there are many Muslims in the military who proudly served and whose stories need to be told."
The activists and leaders spread the word through their online networks, she added, asking Muslim women to tweet about how they speak out and change the idea that they are oppressed and silenced.
"The message is to look beyond the stereotypes that people have about our faith and community, to move beyond that, and dig deeper and understand people as individuals," Ahmed explained. "By showing the reality of our community and the lives of Muslim women, you can't say those stereotypes are true."
Muslim women online responded in force, drawing attention to influential Muslim women, posting photos of themselves speaking at events or protesting, and defending Ghazala Khan's choice not to speak at the DNC.
See below for tweets from the #CanYouHearUsNow campaign.
If you think Muslim women are timid & silent, search @TawakkolKarman @MalalaFund @DMogahed @DaliaFFahmy @RashidaTlaib #CanYouHearUsNow
— Linda Sarsour (@lsarsour)
August 1, 2016
Muslim women "not allowed to speak?" I gave a @TEDTalks and got a standing ovation. #CanYouHearUsNow https://t.co/iggExDBXzD

— Dalia Mogahed (@DMogahed) August 1, 2016
@SaraSoueidan Just in case @realDonaldTrump needed visual proof. #CanYouHearUsNow pic.twitter.com/YksuY121Ri

— Sara Soueidan (@SaraSoueidan) August 1, 2016
Defending civil rights and liberties as an American Muslim female lawyer. #CanYouHearUsNow pic.twitter.com/8GwsCHSXe4

— Brenda (@BrendaFA81) August 1, 2016
We definitely aren't silent in the face of injustice. #CanYouHearUsNow? pic.twitter.com/lx9IuMki3x

— Amanda Dwarf Jacz. (@girlwithafacee) August 1, 2016
Ghazala Khan had a very good reason for having her husband speak instead of her by choice. #CanYouHearUsNow pic.twitter.com/fZSITrpeT5

— Dr.Debbie Almontaser (@DebbiAlmontaser) August 1, 2016
Sometimes Muslim women want to speak in public. Sometimes we don't. Both are excellent choices. #CanYouHearUsNow pic.twitter.com/vTCxr3rPoa

— Footybedsheets (@_shireenahmed_) August 1, 2016