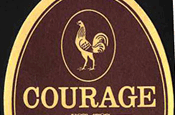 The agency will take responsibility for all above-the-line creative for Courage's range of beer brands, which includes Courage Best, Courage Directors, Courage Dark Mild and Courage Light Ale.

Mustoes, which recently merged with Geronimo Communications, has previously worked with Wells ?and Young's on ad campaigns for its Bombardier brand.

Farm has handled the Courage account since July last year, when it landed the business following a pitch against Krow.

Wells and Young's acquired the Courage brands from Scottish & Newcastle in January 2007, prompting it to part with Team Saatchi, the incumbent at the time.

In the past, the Courage brand has spawned some famous TV campaigns, in-cluding "gertcha" in the 80s.

The black-and-white ad for Courage Best, created by BMP, is set in a pub and features the music of the Cockney duo Chas 'n' Dave.