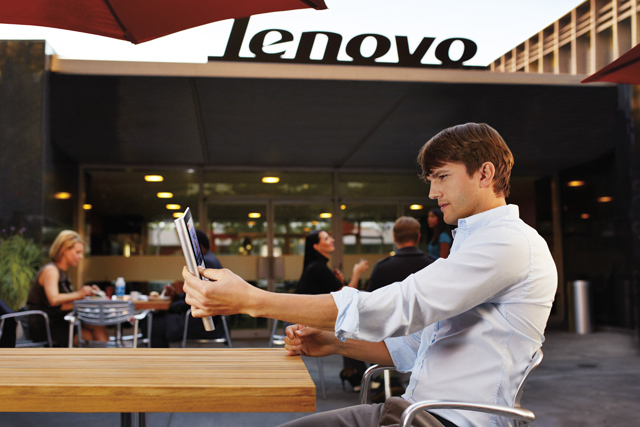 Lenovo chief marketing officer David Roman (right) and VP of EMEA marketing Dr Jan Huckfeldt (below) talked Marketing through why Lenovo made the Motorola acquisition, why signing up Ashton Kucher is not a gimmick and revealed plans for a European design centre.
How is your mobile business developing and why did you acquire Motorola?
DR: "We started off [entering] markets where we had best access and for smartphones that is markets where they have less of the subsidised phones through carriers. When we saw the opportunity to accelerate that through the acquisition, Motorola Mobility became a very logical complimentary business because they had a lot of things we didn't have.
"They had products we didn't have, expertise on the software and the relationship and expertise to deal with the carriers and the carrier requirements in many of the mature markets. They have a brand that is a valuable brand in many places."
JH: "Especially in America where we have not yet entered with a Lenovo smartphone."
Will you use just the Motorola brand in Europe and North America or will you have a dual strategy of bringing both Lenovo and Motorola branded phones to these markets?
DR: "It is early stages, we still need to close the deal and we will be doing a lot of work to look at that and where the brands are. In general, if you look historically at what we have done with past integrations we've really built on the brands we've had. ThinkPad is a much stronger brand today than it was in 2005 when we acquired it so we invested in building that because it makes sense."
And when might Lenovo-owned phones come to the UK?
JH: "It is too early to say today. That is obviously in light of the closing of the Motorola deal."
DR: "I read the Moto G has been very well received in the UK, at least from a critical stand point in terms of reviews."
When will the Motorola deal close?
DR: "On average these deals take six to nine months for regulatory approval to go through in different countries around the world."
What will be your positioning when you do come to the UK?
DR: "In general if you look at many of the markets we are in with current phones it is at the high end of the mid-range but you are getting a tremendous amount of value at that price point. We are not that interested in going for the very low end and when you are getting into a new market and trying to build scale it is difficult to do it all at the high end."
Have you brought Apple's design ethos to Lenovo from your time at Apple?
DR: "When you focus on consumers the experience of the product includes industrial design, the interface, packaging and the perception of the brand behind it.
"As a company we've really built experience in that space, last year in Europe we won the Red Dot design award for our design team (Porsche won the year before). We are looking at building a European design centre because we want to go where the designers are."
Could the European design centre be built in London?
DR: "It could well be. If you look historically at what we've done we tend to go where the expertise is and it makes sense, for example all the ThinkPad engineering is done in Japan."
Why did you sign up Ashton Kutscher to front your marketing?
DR: "We don't do a lot of large scale mass communications where it would make sense to pay a lot of money for someone to endorse the product simply as a sponsorship.
"He was interested in leveraging his passion for technology, he was studying engineering when he became a model. Over the last three or four years he has been as involved with his technology investments in specialist software stuff."
Is he having an influence on the design of products?
DR: "There will be an Ashton Kutscher version of a Lenovo Yoga tablet that will launch this year. He calls himself a Lenovo product engineer and it is not a gimmick, it is a real thing. He wants to push his experience to include a lot of things he is working on in terms of different types of software and experiences."
Are you increasing your marketing spend?
DR: "Budgets are going up as a combination of our growth and also as we move into these new categories marketing does become a bigger part of the total mix. We never forget we are in the technology space, at the end of the day products are what really make the difference.
You can't be a cool brand without cool products so a lot of our investment is in industrial design. We can't just spend our way to success otherwise we would need to have much larger budgets."