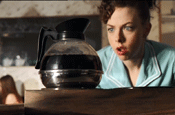 The ad, commissioned in house by the opticians, shows an American town hit by an outage.
A hairdressers clippers stop mid-haircut, a junction is jammed after a lights failure, and a cinema audience is disgruntled after a blue movie stops at a key moment.
The final scene shows a short-sighted lumberjack chopping what appears to be a tree, but turns out to be a wooden power line.
CreditsAgency:
Specsavers in house
Creative Director:
Graham Daldry
Agency Producer:
Sam Lock
Creatives:
Simon Bougourd, Neil Brush
Production Company:
Rattling Stick
Director:
Daniel Kleinman
Producer:
Johnnie Frankel
DP:
Carl Nilsson
Post Production:
Framestore CFC, London
Offline Editor:
Steve Gandolfi @ Cut and Run
Production Service Company:
Treehouse North