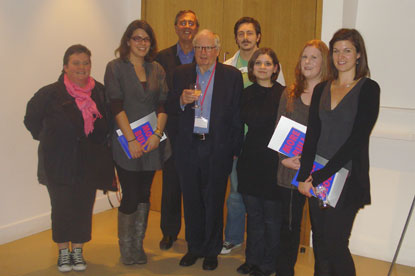 Every year, Fast Forward sees cross-discipline teams from around the industry working to tackle a live brief set by a client.
This year, the delegates were working on a brief by Vodafone to develop a proposition for the "World of Difference" programme.
The company will now develop the winning idea that was presented by the team of Elisa Birtwistle (a WPP Fellow working at PSB), Laura Cledwyn (Delaney Lund Knox Warren), Matthew Parry (JWT), Penelope Lipsham (Altogether Digital), Ruro Efue (MediaCom), Sarah Stinton (LBi), Stuart Woodall (Dare) and Tim Harvey (Leo Burnett).
The winners will be rewarded with VIP tickets to next year's British Grand Prix, as guests of Vodafone, including exclusive access to the pit lane and a private audience with Lewis Hamilton.
Carole Butler, the chief executive of Nabs, said: "The standard of last year's work set the bar very high for this year's course. All of the judges this year were both surprised and delighted to see that the delegates had more than risen to this challenge.

"To think that the people who have produced this work all have less than five years' experience suggests that the future of our industry is in very safe hands."